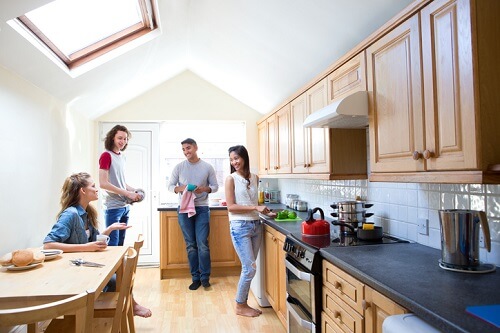 An analysis by the federal government revealed that the burden of the central bank's increasing interest rates will mostly be felt by younger, middle-income households, as well as by the indebted sector, which is mostly composed of mortgage borrowers.
The Finance Department assessed households using criteria such as income, age and region in order to identify those who will be most affected by the Bank of Canada's ongoing rate-hiking trajectory, as reported by The Canadian Press.
More importantly, officials studied how higher rates will impact "highly indebted households," those that are already carrying debt-to-income levels of at least 350%
Debt loads of this amount are carried by 12% of all Canadian households. Altogether, the burdens under this category make up for about 50% of the country's total household debt.
After identifying the profile of the stretched households, the study showed that they most likely consist of households led by middle-income earners, Canadians under 45 years old, mortgage holders, the self-employed, and those who reside in Ontario and British Columbia.
"The expected increase in interest rates over the next few years will have various impacts on Canadian households, including an increase in the cost of servicing debt," said the analysis, which highlighted that about 70% of households carry debt.
"Naturally, households with high debt levels would see the largest increases."
Digging deeper, it was found that mortgages account for 85% of households' total debt burden, making it the key reason why households remain indebted. Younger households are more likely to have higher debt, as older households have either completed their mortgage payments or have settled more of the debt.
Preparing for more hike rates
Recently, Governor Stephen Poloz has announced that gradual rate increases can be expected moving forward due to the economy's resilience. In fact, analysts believe the next one could happen before the end of this year.
The Bank of Canada said it is continuously monitoring the economy and how it adapts to higher interest rates. The bank also said that household credit weakened to the extent that is now below the growth rate of household income.
Given the condition that household debt loads are still near record levels, the Finance Department listed some measures that could help ease the effects of rising costs of debt payments. These include income growth, which, if high enough could absorb the entire increase in debt-servicing costs.
Heavily indebted households could also either prolong the duration of their existing loans or cut back on how much money they try to save. As a final resort, officials suggested households could sell off some of their liquid financial assets.
The analysis, secured by The Canadian Press under the Access to Information Act, was based on 2012 figures and was created in September 2017, shortly after a pair of Bank of Canada hikes.
Related stories:
TD Bank app now offers mortgage consultation
Household debt rating eased in Q1 2018 as banks' second quarter profit rose