Home sales activity was lower in April as the impact of the mortgage stress tests hit the spring housing season.
The Canadian Real Estate Association says that it is seeing some of the effects it warned the government about with cooling in markets that weren't overheating.
MLS sales of homes nationwide were down 2.9% year-over-year with about 60% of markets reporting lower sales led by the Fraser Valley, Calgary, Ottawa and Montreal.
Actual activity was down by 13.9% from a year earlier and was 6.9% below the 10-year average for April. Again 60% of markets showed decline, led this time by the Lower Mainland of BC and markets in and around the Greater Golden Horseshoe region of Ontario.
"This year's new stress test has lowered sales activity and destabilized market balance for housing markets in Alberta, Saskatchewan and Newfoundland and Labrador Provinces," said Gregory Klump, CREA's Chief Economist. "This is exactly the type of collateral damage that CREA warned the government about. As provinces whose economic prospects have faced difficulties because they are closely tied to those of natural resources, it is puzzling that the government would describe the effect of its new policy as intended consequences."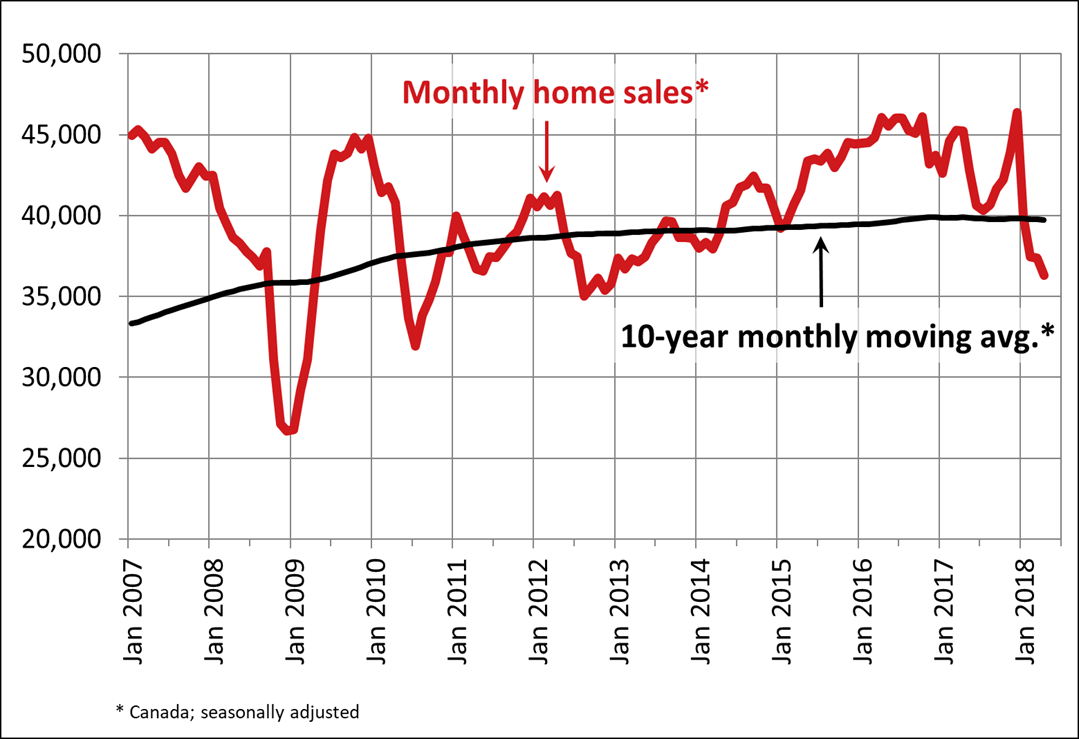 Listings down, sales-to-new-listings ratio above average
The number of new listings was down 4.8% in April, 12% below the 10-year average; but there was 5.6 months of supply, the highest since September 2015.
The sales-to-new-listings ratio was 53.7%, slightly up from 52.6% in March and above the 10-year moving monthly average of 53.4%.
Around 60% of local markets were considered balanced in April.
Prices saw smallest rise since 2009
The Aggregate Composite MLS® Home Price Index was up 1.5% y-o-y in April 2018 marking one full year of decelerating y-o-y gains. It was also the smallest y-o-y increase since October 2009.
Deceleration was driven by a stabilization of home prices in Ontario's Greater Golden Horseshoe region following a rapid rise a year ago.
Composite benchmark home prices in the Lower Mainland of British Columbia continue to trend upward after having dipped briefly in the second half of 2016 (Greater Vancouver (GVA): +14.3% y-o-y; Fraser Valley: +22.7% y-o-y).
Benchmark home prices continued to rise by about 14% on a y-o-y basis in Victoria and by about 20% elsewhere on Vancouver Island.
Within the GGH region, price gains have slowed considerably on a y-o-y basis but remain above year-ago levels in Guelph (+5.9%). By contrast, home prices in the Greater Toronto Area (GTA), Oakville-Milton and Barrie and District were down from where they stood one year earlier (GTA: -5.2% y-o-y; Oakville-Milton: -8.7% y-o-y; Barrie and District: -8.4% y-o-y). This reflects rapid price gains recorded one year ago and masks recent month-over-month price gains in these markets.
Calgary and Edmonton benchmark home prices were again little changed on a y-o-y basis (Calgary: +0.1% y-o-y; Edmonton: -0.9% y-o-y), while prices in Regina and Saskatoon remained down from year-ago levels (-6.5% y-o-y and -3.4% y-o-y, respectively).
Benchmark home prices rose by 8.4% y-o-y in Ottawa (led by a 9.4% increase in two-storey single family home prices), by 6.3% in Greater Montreal (led by a 7.3% increase in two-storey single family home prices) and by 4.2% in Greater Moncton (led by a 5.6% increase in one-storey single family home prices).