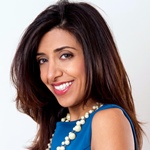 Lena Guirguis is an Ottawa-based real estate investor, Senior Managing Partner at Ottawa Capital Partners, and one of the founders of NV Property Management, a boutique property management firm.

Where were you when you finished university? Did you think you'd be where you are now?
I was actually managing fitness clubs when I was in university. I was studying nutrition and wellness, so I figured I'd be a dietician, working with people to help get their nutrition and wellness under control. I was definitely not expecting to take the turn that I did.

What makes you different?
I think what makes us most different is when we started out, I was in school full-time, and my husband was unemployed. We had no money or support from our families, and when we got involved in the business itself, we ended up with people who were taking advantage of us. We turned the hurt and the anger into passion to make this industry a better place for other investors who may be in a similar situation. We work with newcomers and people who may not have a means of financing and actually get them set up.

Are you a morning person or a night person?
I would say that I am a morning person. I work from about 7:30 a.m. to about 1 a.m. I'm always up early and I like to get my day started early. I would like to be in bed by midnight, but that doesn't happen very often.

What is some of the criticism you've received?
As a female in the industry, it makes things more challenging. We invest in a lot of small markets in Ontario, and the individuals I deal with tend to be old-fashioned. Many of the men in the permit offices or in the construction industry don't take me seriously. They talk to me as just as the "little lady," and they tell me that the position that I am in is "men's work." When I'm firm with them, I'm referred to as many things, other than a person who stands my ground, such as unpleasant or uncooperative. If my husband goes in, he's referred to as a man standing his ground.

What is your favourite part of your job?
Right now, I'm working with youth, specifically girls' leadership. I've been doing quite a bit of work with the City of Cornwall to get high school-aged girls into leadership programs. I enjoy showing young girls that regardless of who you are or where you're from, you can actually build something yourself if you truly believe in what you're doing.

What is your most memorable tenant encounter?
We specialize in purchasing distressed multi-family properties, so the types of tenants we inhering during our purchase are generally do not fit the profile we would want to be renting to. One morning, I get a page on our emergency pager at 3 a.m. I check my voicemail, and I get a message from one of my tenants saying that their floors are incredibly hot. We then find out that the upstairs tenant had broken into the downstairs unit to turn the microwave off, but he couldn't find it, so he threw a brick through their TV instead. When the downstairs tenant came home, he realized that the insurance deductible wouldn't cover the TV, so they broke down their back door and robbed themselves in order to make an insurance claim.

What is your biggest pet peeve?
People who don't respect your time. I deal with a lot of professionals, including Realtors and city permit people. When you're there and you need to get your work done, and these people are sitting there, having a coffee and not even acknowledging the fact that you have an appointment, or they're late and don't show up, it's insane. The same thing will happen with tenants who want to view your properties. They'll book and confirm an appointment and not show up. The lack of respect for an individual's time in this industry makes me crazy.

What are you most proud of?
One of the biggest wins for us was the severance of a duplex in Cornwall. It was on a heritage street, so initially we got a bit of resistance from the people living on the street because they didn't quite understand what we were going to do. Then the city dragged the inspection on, so what should have taken six months ended up taking 18 months. We ended up having to gut the entire property, which ended up costing us $80,000 instead of $30,000. When we finally finished, we actually had the city congratulate us. When we put the property on the market, we almost everyone who lived on that street came and thanked us for cleaning up both the property and street, thus increasing the property values.

What is the last book you read?
Never Eat Alone, by Keith Ferrazzi. It's about the importance of building relationships and networking in order to be able to have a successful business. The success of your business is based on the relationships you build with people, and the only way to be able to build these relationships is be understanding how you can be of service to people who you want to learning from, growing with and working with.