There was an increase in Canadian housing starts in July but the national picture belies diversity across the main urban centres.
The 6-month trend for housing starts nationally was 208,970, up from June's 205,765 according to newly released stats from the Canada Housing and Mortgage Corporation.
"The national trend in housing starts increased in July, despite a decrease in the level of SAAR activity from June," said Bob Dugan, CMHC's chief economist. "High levels of activity in apartment and row starts in urban centres in recent months continued to be reflected in the high level of the total starts trend in July".
In the largest metro regions, the upward trend continued in Vancouver with multifamily starts dominating; year-to-date 85% of starts were multifamily and focused in the City of Vancouver and the City of Surrey.
Meanwhile, overall starts in the Toronto CMA were lower with multi-unit starts declining despite continued strong demand.
Starts were also lower in Victoria (down 12% year-over-year) and Regina's starts are down year-to-date to little more than a third of the same period of 2018 amid higher construction costs and moderating home demand.
Lower starts for multifamily units were greater than the increase for single-family starts in Winnipeg, with overall starts lower than in June.
There were gains for Ottawa and Montreal though with condos and row starts driving the overall increase in Ottawa (up 5.3% year-to-date compared to the same period of 2018) while Montreal's gains were entirely down to rental homes.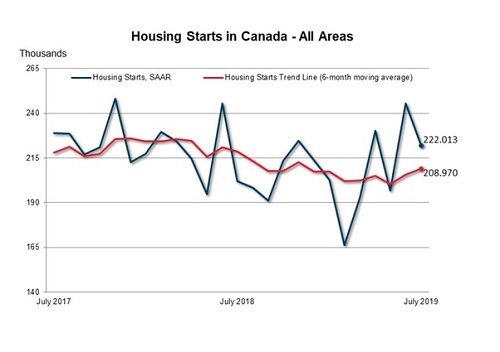 Image source: CMHC
Standalone stats for July
The standalone monthly SAAR of housing starts for all areas in Canada was 222,013 units in July, down 9.6% from 245,455 units in June. The SAAR of urban starts decreased by 10.4% in July to 209,122 units. Multiple urban starts decreased by 12% to 162,722 units in July while single-detached urban starts decreased by 4.6% to 46,400 units.
Rural starts were estimated at a seasonally adjusted annual rate of 12,891 units.