Condo rents in the Greater Toronto Area increased 9.4% year-over-year on a per square foot basis in the third quarter of 2018.
Urbanation reports that tight supply of rental units pushed the average rent up to $3.26 per square foot although average monthly rent payments rose slightly less as the average unit size leased in Q3-2018 declined to 731 sf from 744 sf in Q3-2017.
The increase means that the average rent in the GTA was $2,385, up 7.6% year-over-year.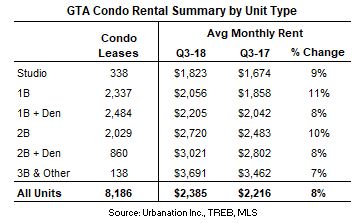 The number of condo lease transactions reached their highest third quarter level in three years at 8,186 units, up 5% year-over-year as new supply became available.
More supply required
There was a slowdown in purpose-built rental construction starts (826 units) sharply lower than the recent high of 2,635 starts in Q2-2018. It meant the lowest quarterly level of starts of the past two years.
Total inventory of purpose-built rentals under construction moved up to 11,172 units — the highest level in more than 30 years and 56% higher than a year earlier (7,167 units) and next year a record 28,163 apartments reach completion, including 4,419 purpose-built rental units.
"Rapid rent growth has persisted in the GTA for over two years now, making it very clear that much higher levels of supply are needed to create a balanced market environment," said Shaun Hildebrand, President of Urbanation. "While increasing condo completions should begin to have at least some calming effect on rent increases next year, more upward momentum in purpose-rental construction is required to meet overall demand."