New condo apartment sales activity was weakened by the lowest volume of new projects launched for pre-sale in the first three months of 2019.
But things are set to improve with construction in the first quarter reaching a record high and demand fundamentals for condos remaining solid.
A report from Urbanation shows a total of 3,073 new condominium apartments were sold across the GTA in Q1 2019, down 26% year-over-year to its lowest level since 2013.
Meanwhile, the volume of new openings was at a 10-year-low of 1,829 units in just 8 new projects; and 90% of all new condominiums in development were pre-sold as of Q1-2019.
The total number of units under construction as of Q1-2019 surged to a record 71,378 units across 242 projects, rising from 61,555 units (221 projects) in Q1-2018.
But the increased costs of labour and materials is making builders wary of over-committing especially as there have been several project cancellations.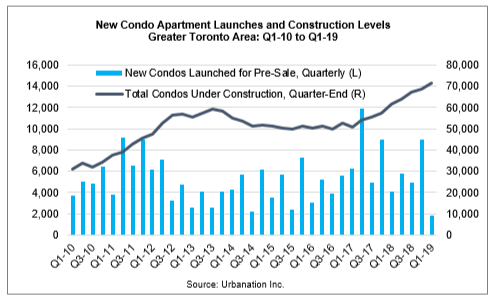 Price growth is easing
The upward trajectory of new condo apartment prices in the GTA is slowing.
Urbanation's figures show the average sold index price within all actively marketed projects in Q1-2019 increased by 1.7% from Q4-2018 ($766 psf to $779 psf).
This was down significantly from the 2.9% quarter-over-quarter growth averaged during 2017 and 2018; although year-over-year the price index gained 10% and unsold prices grew 9% (to $998 psf).
In Downtown Toronto where inventory remained exceptionally low, asking prices for available units on the market rose 13% from a year ago to a record average of $1,279 psf.
"A particularly slow period for new condo sales activity in early 2019 will give way to a busier second quarter as project launches increase and demand fundamentals in the GTA remain solid," said Shaun Hildebrand, President of Urbanation. "However, it's also important to recognize that the growth trajectory for condo prices is starting to change and slower rates of appreciation are emerging relative to the past few years"
The total number of unsold units in development remained low from an historical perspective at 12,232 units at the end of Q1-2019.
Completed and unsold inventory in newly built condo projects totaled only 249 units, with only an additional 261 unsold units in projects under construction that are scheduled to reach completion by the end of the year