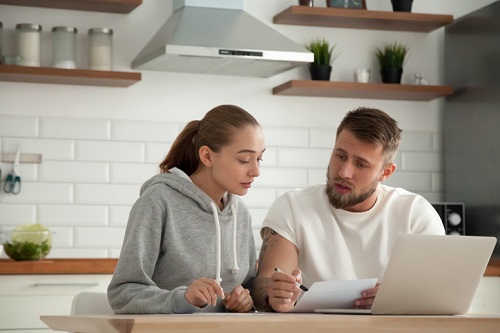 Financial problems are one of the least discussed topics between couples in Canada, according to the new survey from Manulife Bank of Canada.
The survey revealed that while four in 10 married or common law Canadians often talk about money with their partner, half said that such conversations cause tension in their relationship. 20% of respondents, even confessed that they try to overlook money problems by using an "out of sight, out of mind" approach to their finances.
It's even worse for Canadians who are in debt. One in 10 of them have completely kept the cost of a large purchase from his or her partner, with an additional 10% saying they lied about the price.
"Conversations around money and debt can be one of the most difficult things couples ever discuss," said Manulife Bank President and CEO Rick Lunny. "The trick is to get these issues out in the open and having an open and frank discussion about them."
Results from the survey also implied that not talking money with your partner carries mental health risks. 40% of Canadians with debt confirmed this, saying that their loans negatively impact their mental health. For those who carry lots of debt, the percentage climbs to as much as 70%. Additionally, around half say they're often rattled by their financial situation, with one in three saying that they could not sleep at night worrying about their debt.
Looking closely at the respondents' profiles, those who say they are in a lot of debt and are under 35 are more likely to say their debt is causing issues in their relationship. On the other hand, men, under 35 and in a lot of debt, are most likely to say their partner doesn't know how much debt they are in.
Furthermore, it was found that debt-ridden respondents say it affects retirement savings for more than half of the respondents, and over half say they would struggle to handle unexpected expenses.
These respondents are more likely to have negative feelings about their debt are
Those who live in the Prairies
Renters;
Those who are concerned over rising interest rates
Women
People under 55
Related stories:
Bank activity drives local debt sales to record $63.8 billion
Canadians less likely to pay down debt in 2018