Construction is underway on what will be the largest mixed-use project ever built in Laval.
Espace Montmorency is an urban hub located in the heart of the city, directly connected to Montreal's underground network at Montmorency metro station.
The $450 million project will include offices, cafés, restaurants, a hotel, residential units and green spaces. It is due to be completed in fall 2022.
MONTONI and the Fonds immobilier de solidarité FTQ, have welcomed a brandnew partner, Groupe Sélection, for the development and construction of the residential portion, which will integrate three different types of living spaces to serve the needs of a diverse intergenerational clientele:
frïdom, which targets a clientele aged 55 and over, will offer 200 boutique apartments at a monthly "all-inclusive" price;
REZ, which is aimed at a diversified clientele (young households, professionals and families), will offer 300 rental units at a value price;
Yimby, a banner designed by and for Millennials, will offer 200 units for people under 35.
"Laval welcomes Espace Montmorency, an avant-garde urban development that fits directly into our strategic vision for the City's future," commented Marc Demers, Mayor of Laval. "With its residential spaces, places of business, retail shops and common spaces, Espace Montmorency will contribute to the emergence of an innovative, human-scale neighbourhood that will contribute to the growth and vitality of downtown Laval."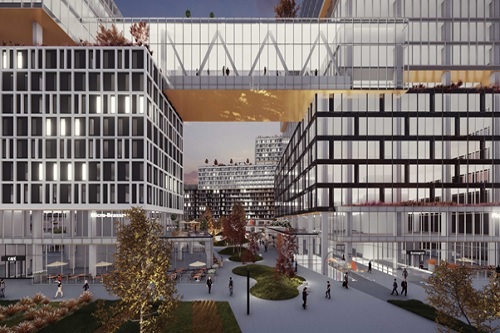 Image Credit: Sid LEE Architecture
Green credentials
The new project will aim for both LEED Gold and LEED ND certification and will be built around a 'block design'.
"True to our values, we have carefully planned Espace Montmorency so as to combine sustainable design and high-quality spaces while respecting the environment," said Dario Montoni, President, Groupe MONTONI.