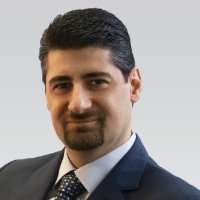 Who:
Albert Collu
What:
President
Where:
Mortgage Architects
Albert joined Mortgage Architects as president in 2013, following a successful stint as president and CEO of Argentum Mortgage and Finance Corp., where he was instrumental in growing the company by $2 billion and adding 500 brokers in two years. Albert attained a business degree from York University and is currently enrolled with the hopes of attaining a law degree from the University of London in England. He has also worked in the mortgage industry in the capacities of national manager with two leading lenders.
Milestones achieved in 2013
As the President & CEO of Argentum I made a strategic decision to bring Mortgage Architects and Argentum together by way of agreeing to the acquisition of Argentum
This provided both organizations an opportunity to collide incredible strategies and leadership teams to create a formidable company in Mortgage Architects to better position our mortgage brokers for success.
This has catapulted MA to a channel of 1200 brokers with strong market share
Goals for 2014
My main aim for 2014 is to continue the incredible momentum we've enjoyed with Mortgage Architects in 2013 and to create an identity within in our industry so that Mortgage Architects becomes synonymous with an environment known to contribute and assist towards increasing income for its mortgage professionals
Our unique lender/broker strategy is the only living and breathing structure in our business that allows us to give back commissions to our mortgage brokers
Forecast for the industry in 2014
"I don't have enough space to elaborate but in sum my forecast is this – I believe most brokers will remain relatively flat but that said I also believe that those brokers that embrace the regulatory changes that have occurred the past two years will reap great rewards. These rewards will be attained by brokers who have widened their appetite and proficiency of alternative mortgages ,diversified their revenues and who have implemented existing customer database strategies."
Current:
President, Mortgage Architect (2013)
President & CEO, Argentum Mortgage and Finance Corporation (2009)
Previous:

National Manager Excalibur, First National Financial LP (2005-2007)
Home Trust

Years of Experience:
ACHIEVEMENTS/RECOGNITIONS:
AFFILIATIONS:
EDUCATION:

Bachelors of Laws, Kings College London- University of London (2012-2013)
Mortgage Broker Program, Seneca College of Applied Arts & Technology (2008-0009)
Bachelor of Arts- Business, York University
Executive Leadership Program, Queens University (2004)

Current Town

Toronto, Ontario

Hometown
Family
Interests
Other Information
To read the full feature, click on the following link
CMP Hot List 2014
to download the PDF.