The new location for Tim Horton's new head office speaks volumes about the change of mindset in corporate Canada.
The coffee chain has moved to the historic Exchange Tower at 130 King Street West, in the heart of Downtown Toronto.
And central to the new office is a feeling of culture and community, together with celebrating the firm's roots throughout the 65,000 square foot floorspace.
"We wanted our new head office design to be a celebration of the brand and coffee culture and a welcoming place that brings people together," says Alex Macedo, President, Tim Hortons. "We chose the heart of Toronto because it will help attract the next generation of talented Tim Hortons employees and ultimately fuel our growth."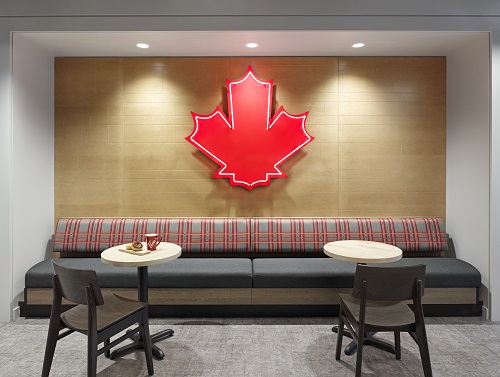 Iconic Canadian symbols and decorations are included throughout the office and in common areas. Photography credit: A Frame Inc. (CNW Group/Tim Hortons)
The head office is on the old TSX trading floor and was designed by Gensler. It features Canadian Maple panelling, tons of natural light, and iconic Canadian symbol and decorations.
The two-level space includes collaborative meeting spaces, outdoor terrace, test kitchen, staff café, and – as you might expect – over 20 coffee and tea brewing stations.
The office is decorated with imagery of original Tim Hortons coffee shops and of Tim Horton himself to remind everyone of the brand's humble and unique origins.
"The notion of community is evident through spaces such as the generously sized, welcoming reception area, which feels more like a living room than corporate office," says Macedo. It is just one of a number of features that makes this space not only feel uniquely Canadian, but uniquely Tims."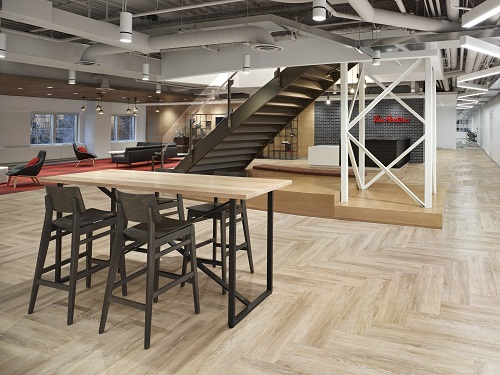 Tim Hortons reception area fitted with wood flooring, exposed brick and natural lighting. Photography credit: A Frame Inc. (CNW Group/Tim Hortons)