A development on Toronto's waterfront has been named the best-selling condo project of 2018.
Sugar Wharf Residences from Menkes Developments was ranked #1 by Altus Group and has been hailed a major achievement for the developer in a year where buyer confidence and sales activity has weakened.
In summer 2018, Menkes launched the first two residential towers and sold 1241 condo units out of a total of 1463 units (85%).
"We are so pleased that buyers were as passionate about this project as we are," said Jared Menkes, Executive Vice President, High Rise. "The strong response to Sugar Wharf is especially meaningful coming out of 2018, where many builders experienced a shift in market conditions. Increasingly, there has been a flight to quality by prospective homeowners, opting for brands they know and trust, and we are fortunate to be one of those brands."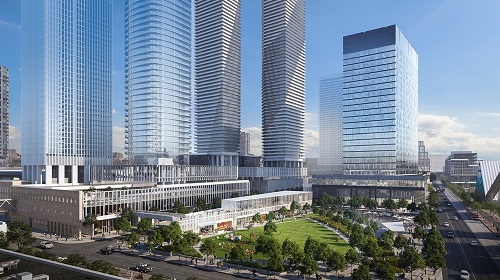 Image credit: CNW Group/Menkes Developments Ltd.
The development broke ground a year ago and when it's completed it will be the largest mixed-use development on Toronto's waterfront with homes for 7,500 in 5 residential towers of up to 90 storeys and a mid-rise rental building; and offices for 4,000 workers.
There will also be restaurants and shops. In all, the East Bayfront development will cover 11.5 acres.