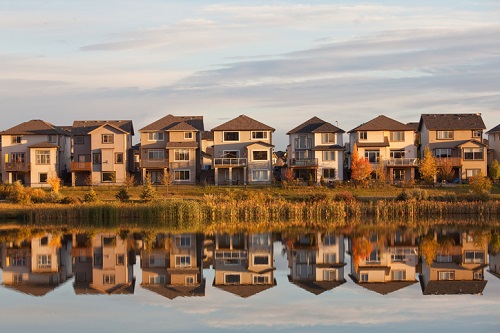 Recently, you may have read reports on Canada's housing market that use phrases like "stabilizing," "out of its slump," and "no signs of cooling." These varying ways to describe the country's housing markets might make you think that there isn't a single housing market by itself, but rather a collection of local markets where prices and sale volumes adapt to local variations in housing demand and supply, and, at times, to institutional directives.
The latest release of the monthly housing statistics by the Canadian Real Estate Association (CREA) confirmed this idea, saying that its "national" Canada-wide perspective on housing markets is not necessarily reflective of any one local market. Rather, the national housing market is seen as sum of its components. For most, these individual parts are more significant since consumers typically only experience housing prices and sales volumes at local levels.
As a result, The Financial Post noted that while month-over-month comparisons are fascinating, year-over-year comparisons are more substantial, given the cyclical nature of housing markets.
"[T]he 4.1% increase in sales volume observed in June 2018 over May might suggest an upswing in national housing markets. Yet, it is obfuscating the larger underlying market dynamic: A comparison with June 2017 reveals a decline of 6.6% in national housing sales," the Post explained.
Additionally, the numbers from CREA are seasonally adjusted to consider housing markets' condition with the ever-present seasonal variations. The raw sales numbers, more known as "actual activity," display that the national housing sale volumes fell 12% in June 2018 relative to the same month in 2017. Home sales in June were also 6.3% lower than they were in May 2018.
If there are two opposing sale rates even at the national level, the question "were the markets up or down in June?" needs to be answered.
CREA publishes a home price index (HPI) that reports change in housing values of similar or identical housing stock over time.
For June 2018, the HPI presents a contradictory scenario where the index was slightly up by 0.9% since June 2017 but down by 0.13% when compared to May 2018.
CREA's President Barb Sukkau leans toward seasonally adjusted figures as she reflected on the impact of stress tests, which pushed the mortgage qualification threshold higher at the start of this year. "The increase in June (sales) suggests that its impact may be starting to lift," Sukkau said.
However, when it comes to actual housing values, signs of a turnaround are not seen at the national level where the actual average housing price in June 2018 at $496,000 was 1.3% lower than the standard price a year ago. Compared to May 2018, average housing prices barely grew by 0.3%
When considering the above, it's hard to say this is a hot market, at least at the national level. So is the glass half full or half empty? It really varies.
"Housing markets across Canada continuously adjust to local dynamics and nationwide regulatory changes to mortgage finance. While the short-term monthly dynamics might be a bit jittery, the long-term view of housing markets reveals their resilience and suggests the regulatory blues will eventually be shaken off, and the steady upward stride will continue," the Financial Post concluded.
Related stories:
Why homes are nearly unaffordable in Canada
Canada housing market shows signs of life