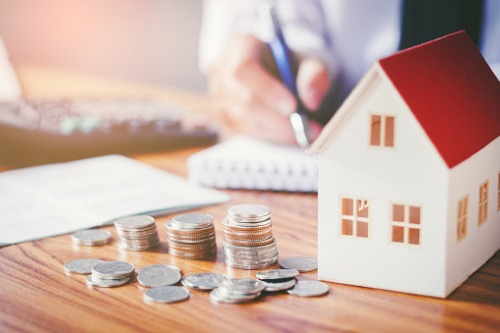 Refinancing your home loan means changing your existing mortgage for a new one. Many homeowners choose to refinance their home loans to get a better rate or increase their existing loan to withdraw some home equity. You can refinance your home loan from any bank or lender of your choosing.
In Canada, you may be able to borrow up to 80% of the appraised value of your home. However, the amount you are still to pay for your mortgage or other loans against your home will be deducted.
For example, if you would like to refinance your home currently valued at $500,000 to pay for upgrades, you still owe $100,000 on your mortgage. Should your lender refinance your mortgage to the $65,000 limit, you would owe $400,000 on your refinanced mortgage.
| | |
| --- | --- |
| Appraised home value | $500,000 |
| Maximum loan you may get: | x 80% |
| Loan amount based on appraised value | = $400,000 |
| Less balance you owe on your mortgage | -$100,000 |
| Refinance credit limit | $65,000 |
Keep in mind that the interest rate on your refinanced mortgage may differ from the interest rate on your original mortgage. You may also be required to pay a new mortgage loan insurance premium if your mortgage's loan amount changes.
Other fees you may have to pay for a mortgage refinance may include:
Appraisal fees
Title search and insurance
Legal fees
Reasons to do it
Refinancing your home loan needs thorough planning. You have to consider your personal and financial situation as well as your short- and long-term goals. There are many reasons to refinance; here are the reasons it could work for you:
Refinancing could help you financially. It works if it reduces your mortgage payment or builds your home equity faster. However, you must think long and hard before beginning the process. Here are a few questions you may ask yourself to determine if refinancing will suit you and your financial situation:
Why do you want to refinance? Are you refinancing your mortgage to upgrade your property? Tap your home's equity? Consolidate debts? Ask yourself why you want to refinance, as this option is not an escape route from your financial woes. Mortgage refinance will also require you to incur fees and other related costs that may not be worth it if you're doing it for the wrong reasons.
Is refinancing my best option? Research about other loan products in the market before concluding that refinancing your mortgage is the way to go. There may be other options better suited to you and what you need.
Can I afford the repayments? A refinanced mortgage may change the amount you will owe on your mortgage, coupled with new interest rates that may apply. Ask yourself how much you need to borrow and how you plan to pay for the repayments of a refinanced mortgage. You may use our Mortgage Affordability calculator to have a better grasp of how much you can afford to borrow.
Mortgage refinancing may work for you and your financial situation. It may help you pay for upgrades or consolidate your debts. Talk to your lender to discuss your options. Alternatively, you may consult with a mortgage broker who may be able to help you find the best mortgage and rates in the market that fits your needs.