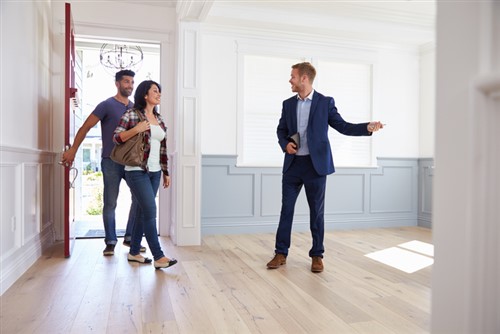 The beginning of every homeownership journey can be daunting. However, being well-informed will help make your adventure a little less stressful. Before you know it, you'd be saying hello to your dream home.
To help keep you on track of your homeownership journey, below are some steps you may follow when buying a house:
Save for a down payment. Before you start house hunting, the first step you have to take is to save up an adequate amount of money for your plan. Saving for a down payment matters the most as this is the money you will be putting towards your home purchase. The larger your down payment is, the easier it may be to obtain a home loan — the more cash you put down from savings, the less money you need to borrow to cover your mortgage.
You may start saving for a down payment by having an automated savings plan. You may also cut back on living expenses that you deem unnecessary. Keep in mind that you shouldn't sacrifice the essentials just so you could save the most money towards a home — consider the quality of life you have when saving.
The minimum down payment amount depends on the value of the house you would like to purchase. Homebuyers usually spend between 5% and 20% of the home purchase price on a down payment.
Consider closing costs. It may be a smart move to save more than a down payment as mortgage costs add up. You should always consider other costs related to buying a home. There are legal and administrative fees you have to pay at the closing of a real estate purchase. Some of these costs are:
Land transfer tax
Title insurance
Mortgage default insurance
Legal fees
Home inspection
There may be other costs you have to shoulder for your home purchase. Consider these costs when saving for a mortgage.
Check your credit score. Your credit score is an essential part of buying a house. Lenders use your credit score to assess how much you can borrow from them. The lower your credit score is, the smaller the amount you can borrow. Checking your credit score will give you an idea of how much you can borrow, making it easier for you to find a house within your price range.

Prepare your documents. Organize all the documents necessary for your mortgage applications. Lenders will look at your current assets, income, and level of debts when assessing your application. Make sure to have documents providing details about these.
Having all the necessary documents in handy will help you have a smooth house-hunting process.
Consider getting an agent. Having a real estate agent to guide you in your home buying journey may be beneficial, especially if you are a busy person. An agent will help you in all aspects of the home buying process. They may act as a negotiator between buyer and seller, and advise you on your purchase.
Should you decide to hire a real estate agent, make sure that they hold a license issued by their provincial real estate board. An agent should also present you with a pamphlet explaining the nature of your relationship and their responsibilities to you.
Get a pre-approval. Once your finances and documents are in order, the next step is getting a pre-approval. A pre-approval will determine how much you can afford. It involves assessing the ratio between your income and your debt once you have a mortgage on a property. It is used by a potential lender to look at your finances and know the maximum amount they can lend to you.

Research about mortgages. Shop around for various mortgages and choose one that fits you best. Consider your budget, the interest rate, the loan features, and repayment when shopping around.

Know about incentives that apply to you. You may be able to save tons of money due to mortgage incentives that apply to you, particularly if you're a first home buyer. Some of these incentives are:
RRSP Home Buyer's Plan. This allows first-time homebuyers to withdraw up to $25,000 from their RRSP to finance a down payment.
First-Time Home Buyers (FTHB) Tax Credit. It offers a $5,000 non-refundable income tax credit amount on qualifying home acquired after January 27, 2009.
GST/HST New Housing Rebate. It gives back homeowners a part of GST/HST paid on the purchase price or cost of building a new house, on the cost of substantial renovation or building a major addition onto an existing house, or on converting a non-residential property into a house.
Start the hunt. Now, the exciting part! Go hunting for your ideal house. Make sure to consider your mortgage and your budget for this step. Consider what you want and need in a house. You may work with a real estate agent to help you find the best deal. While hiring a real estate agent isn't mandatory, they can give you expert advice that may make your house hunting a lot easier.

Seal the deal. Once all are in order and you've finally found the perfect house for you, seal the deal. Congrats, you're now a homeowner!