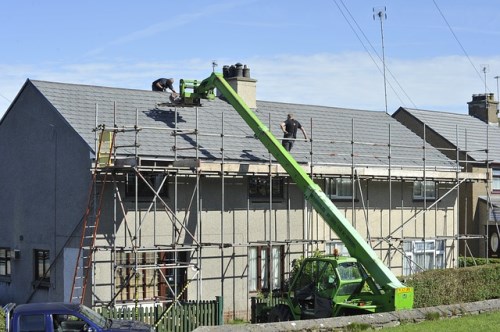 Canadian housing starts fell 8.6% in May from April, a drop that was fuelled by a major pullback in new home construction since the Ontario government moved to cool Toronto's housing market.
"The story in May was the big drop in Ontario, following the new housing rules the province implemented on April 20th," said Benjamin Reitzes, Canadian rates and macro strategist at BMO Capital Markets.
Reitzes said Toronto housing starts dropped 44.4%, following a 22.7% decline in April, to about 22,600. It was the lowest level for starts in Toronto since September 2014.
"Don't be surprised if activity remains subdued for at least a few more months as the housing market digests the changes. The surge in existing home supply we've seen over the past two months could also help restrain home building activity as buyers have more choices," he said.
The decline in Toronto and around Southern Ontario follows a provincial decision to unveil a 16-point plan to cool the housing market. This included a 15% tax on foreign property investors and tougher rent control rules, which restrict how much landlords can charge tenants in buildings constructed after 1991.
The impact of the changes in Ontario could already be seen in results for existing homes published by the Toronto Real Estate Board (TREB) last week. May sales were down 20.3% from a year ago, and average prices declined 6.2% from April.
Brian Johnston, CEO of Mattamy Homes, said that starts are not fully reflecting the slowdown in sales that he's now seeing.
"There is always a lag between starts and sales. I can tell you sales have dropped," he said. "We are seeing that in our offices. It's a reduced level of activity. It's noticeable but it's not like 1989 when markets dried up. Sales are just a little lumpier. Before everything just went. You opened a sales office and pointed people to the desk to sign a contract."
Data released last week by Statistics Canada showed that prices were still surging in April on a national basis. The new home price index rose 0.8% in April from a month earlier, well above the expectations of economists. This pushed the annual increase to a nine-year high of 3.9%.
"The Greater Toronto Area and Vancouver drove the gains, as the increases in land and building costs (the former of which is clear to anyone watching those markets) finally appear to be showing up," Reitzes said.