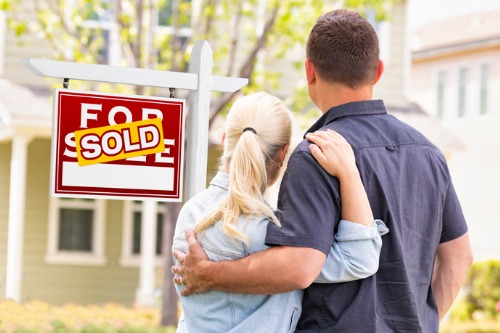 Homeownership can be a stressful ordeal, but this handy guide lays out the basics to help you get keys in your hand!
You may be overwhelmed with the information, documentation, and professional jargon you need to decipher during the buying process, especially if you're a first-time home buyer. Following the steps below can help you organize your documents and plans, making a daunting process seem more approachable. Keep perservering, track your progess, and never get discouraged on the dream home hunt.
Laying the groundwork
Before buying a home you need to set clear and specific goals. Create a to-do list and tick them off as you finish or achieve them. It may also be ideal to set deadlines to help you achieve your goal—owning your first home. Some of the tasks to include on your to-do checklist are:
Save for a down payment
Get a credit score report
Consolidate and/or pay off debt
List home loan features you want and need
Prepare the relevant documents for your home loan application
Research all the costs associated with a home purchase
Some of these tasks, such as saving for a down payment and upfront costs, may take some time, while others like checking your credit rating or gathering paperwork for a loan application may be easier. The bottom line: having a clear-cut plan can make the buying process a breeze.
The most difficult task to tick off your checklist is porbably saving for a down payment, especially if you need 20% of your dream home's purchase price. It takes 29 years on average to save up a down payment to buy a place in Vancouver, according to a report by non-profit organization Generation Squeeze. In Toronto, it may take you 21 years to save for a down payment.
How much you need to shell out for your home down payment depends on the purchase price of the home you want. Here are the minimum down payment requirements:
If your desired house costs up to $500,000, the minimum down payment is 5%
If you want a house amounting to more than $500,000 but less than $1 million, the minimum down payment is 5% of the first $500,000 plus 10% of the remaining balance
If you want a home that costs $1 million and above, the minimum down payment is 20%
It's important to know where you stand. Carefully analyse your finances to know what you'll be able to afford to pay back each month, as well as what the upfront costs of a home purchase. You have to be realistic in evaluating your finances, factoring every bit of expense into your equation. These expenses could range from your food expenses to budget for emergencies such as illness or damages. Once you've calculated your budget, work out how much this equates to in terms of the amount you can borrow. You may use our Mortgage Affordability calculator to have a rough estimate of how much you can borrow.
Shoping for mortgages
Once you've laid the groundwork and figure out how much you can borrow and how much you will need to have before borrowing, it's time to shop around for a mortgage. Some loan types in the market are:
Variable-rate or floating-rate loans. In a variable rate loan, borrowers may have lower repayments in a certain month. However, if the rate rises, the payment will also increase. You may be able to pay for lump-sum payments of your principal without penalty with this type of loan.
Fixed-rate loans. This home loan type locks in your loan interest rate for 1-5 years, generally at a rate above what is currently available. This may be a great loan type for borrowers who are on a budget or don't want to bet with inclement interest rates.
Low-doc loans. Also known as low documentation loans, this is great for freelancers, business owners, or self-employed people who don't have some of the standard documents used for a loan application. A low-doc loan usually requires an income declaration and other financial statements to assess your credibility as a borrower.
Interest-only loans. This home loan type means borrowers only have to pay for the interest of the loan only. You don't have to pay for the principal amount of the loan for a while.
List down the home loan features you want a mortgage to have and discuss your options with your lender. You may also work with a mortgage broker to get the best deal in the market.
A mortgage broker is a provider of professional credit advice to consumers. He or she represents a panel of lenders and offer customers a range of mortgage products that may fit your specific needs. Should you opt to work with a mortgage broker, make sure that he or she is accredited by the Canadian Association of Accredited Mortgage Professionals (CAAMP).
Use our Find a Mortgage Broker page to find a broker near you.
First-Time Homebuyers Incentive
The First-Time Home Buyer Incentive helps first-time homebuyers finance a portion of their home purchase through a shared equity with the Canadian Government.
Some of the requirements to qualify for this incentive are:
Household income must be under $120,000
Purchasers must provide a minimum of 5% down payment
Amount received cannot exceed four times the participants' annual income (or $480,000)
The loan must be repaid
With this incentive, the government provides:
5% or 10% for a first-time buyer's purchase of a newly constructed home
5% for a first-time buyer's purchase of a resale (existing) home
5% for a first-time buyer's purchase of a new or resale mobile/manufactured home
Find a property
Don't jump the gun into viewing properties, list down the property features you want. Some of the factors you may consider in finding for a property are its location, accessibility, employment in the area, and schooling in the area. Of course, you also have to consider your budget when finding a property.
You may reach out to real estate agents in your suburb of choice and sign up to their property alerts. It can be a good idea to ask which properties they have in the market that is at your price range. You may give them your wish list and ask to be contacted ASAP if anything comes on the market in your price range in your chosen location. Line up a legal representative and have your legal documents prepared for the registration and transfer of your property.
Once you've established your price range, it's time to familiarize yourself with what's available at that price. Go to open houses for inspections in the area you're looking to buy in and take a homebuyers' checklist and a digital camera so you can record each home you inspect.
Take your time before making offers on your favourite properties. The key is to make sure you feel like you know the local market as well as or better than the agent you're dealing with and never stray from your buying capacity.
Sealing the deal
You're a few steps away from owning your new home—this is the final stretch, the closing day.
Some of the things that may be done during this day are:
Your lender provides the mortgage money to your lawyer or notary
You provide the rest of the purchase price to your lawyer or notary as well as the closing costs
Your lawyer or notary pays the person who is selling the house, registers the home in your name, and then gives you the deed and keys to your new home
Congratulations, you're now a homeowner!