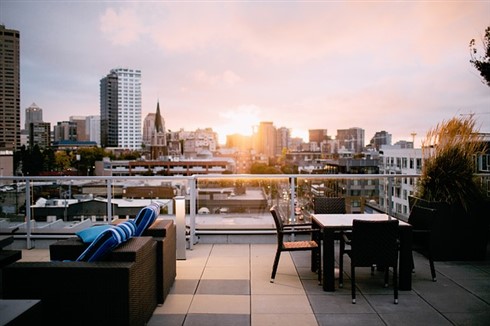 While Montréal's real estate market is enjoying a sustained period of growth, downtown condo sales have been particularly hot.
In 2017, 3,365 condo units were sold in central Montréal, a record that surpassed previous highs achieved in 2012 and 2006, according to figures compiled by real-estate data firm Altus Group.
Much of this growth has been driven by much-publicized new construction projects, such as the Tour des Canadiens 3, suggesting that excess supply is rapidly dwindling.
"We've exhausted the inventory of unsold new units that were in the big towers during the difficult years of 2013, 2014 and 2015," said Vincent Shirley, director of real-estate development at Altus Group.
Foreign investors have started to take note of Montréal's real estate offerings. They now account for roughly 1.7% of real estate purchases in the city, though it's smaller compared to Toronto (3.4%) and Vancouver (4.8%), according to a report from Canada Mortgage and Housing Corporation (CMHC) in collaboration with Statistics Canada.

Also read: Montreal could be the next investment hotspot
The high-rise condos in downtown Montréal are a major draw for professionals with no children and equity-rich older people looking to downsize. Analysts observe that as many as 25% of available stock will be used as investments.
"What we're seeing is people are wanting to live in larger spaces in the downtown. They want great views and to be able to walk to everything," said Rizwan Dhanji, vice-president of sales and marketing at Canderel, the developer behind Tour des Canadiens.
Due to the considerable number of new luxury condo developments in Montréal, many are worried that affordability will eventually become as strained as Toronto and Vancouver's. Some municipal politicians have voiced the need for a foreign buyer's tax to keep prices from skyrocketing.
Alongside affordability concerns, there are also architectural ones. Not only have the new crop of residential skyscrapers reshaped the city's skyline; they have also dramatically altered the pedestrian experience along René Lévesque Boulevard and large parts of Griffintown.
Residents say the new downtown condo towers block out sunlight and deflect air currents.

Also read: Montreal's new mayor wants to impose a tax on foreign real estate buyers