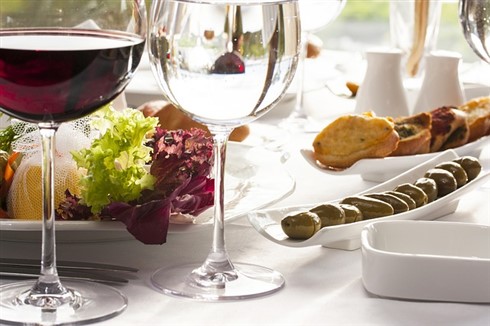 In many upscale real estate markets, realtors' closing gifts to clients have gone beyond the standard bottle of wine to become more thoughtful, personalized, and at times, extravagant.
Realtors who deal with high-net-worth clients have reportedly bought pricey bouquets of fresh flowers, flown in gourmet chocolate from Europe, or commissioned massive home murals as a way of thanking clients who close deals with them.
Even realtors with customers who lack such deep pockets are stepping up their game, gifting their clients appliances, subscriptions to wine-of-the-month clubs, spa days, and personalized gift cards.
Mike Donia, a Toronto-based realtor who specializes in buying and selling upscale residential and commercial properties, said it's his way of thanking clients who've entrusted him with one of the biggest purchases they'll make in their lifetime.
Many realtors see such gifts as being necessary due to the increasingly competitive market.
"Real estate has become cutthroat. A lot of people are even cutting their commission," Donia said. "My feeling is if I take you and your son down to a [Toronto Maple] Leafs game and walk you into the dressing room, it's like Mastercard. It's priceless."
Amanda Miller, a realtor at Slavens & Associates, said she often makes donations to children's charities, non-profits, and causes that are dear to her clients' hearts.
"I really, really make an effort to get to know the clients extremely well," she said. "You don't want to give Client A a huge gift and Client B something else. I think that's why real estate agents are trying to keep it personal. If you personalize something you can't put a price tag on it to compare it."
Real estate agents say they consider such gifts to be an extension of the relationship they build with their clients, which often lasts for years after they receive a paycheque.
Sandra Pike, a Halifax-based realtor, said her closing present used to be a gift card, However, in recent years, she's "[stepped] up her game" and now gifts her clients Tiffany wine glasses with a bottle of champagne.
"We don't have Tiffany here, so it is a big thing," she said. "Not only do they see a sold sign on the lawn, but they are coming into their kitchen and seeing the gift on the counter and it's quite something."
"We work with these people and develop relationships," she said, noting that real estate is an industry where a single transaction can net thousands in commissions for the agent and potentially more clients down the road.