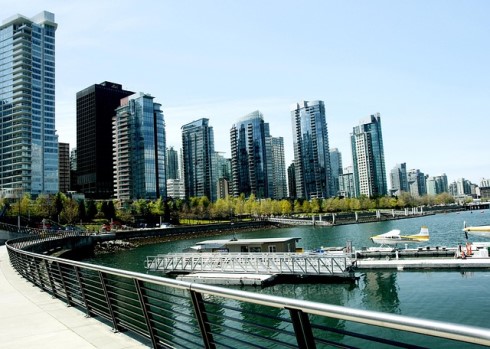 Vancouver Mayor Gregor Robertson is preparing a motion for city council in order to give local buyers of pre-sale condominiums priority access to stock ahead of foreign purchasers. However, the idea is already drawing criticism as it is far from likely to be a panacea for Vancouver's housing affordability crisis.
The motion comes amidst more acute signs of speculation in the pre-sale condo market, which has resulted in sharp price gains, as well as complaints from local residents who say they lack access to pre-sale condo stock.
Jon Stovell, chair of the Urban Development Institute, said the mayor's initiative would do little to ease affordability for local buyers. Offshore buyers, he says, only make up about 10% of the market for pre-sale condos.
Nevertheless, Stovell's company, Reliance Properties, admits there has been a rapid surge in the number of buyers interested in making a significant profit by reselling contracts signed two years ago. The company recently changed its policy for allowing buyers of pre-sale condos to assign contracts to other buyers at its One Burrard project in downtown Vancouver. To discourage the practice, Reliance Properties will now take 25% of any profit made in such transfers.
Stovell prefers to focus on the lack of units, as well as the protracted process of constructing more units, rather than foreign investors accessing condo units ahead of others, flipping them in great numbers, and in doing so, driving up prices even higher.
There are sources of speculation in other sets of buyers who also get a first crack at buying pre-sale condos. In real estate circles, these buyers are known as "friends and family". Next in line are "VIP buyers," who are served by "VIP agents". Some buyers even refer to themselves as "VVIP" and "VVVIP," which is a distinction that hints at varying levels of access and timing in Vancouver's hot condo market.
Developers defend their practice of tapping VIP buyers and agents before other sets of buyers by highlighting this group as having a proven track record of quickly committing to a large set of committed sales. Going to the public and gathering buyers, they argue, has become riskier and more difficult.
According to Stovell, there is a right of recision in the pre-sales condo market. Because buyers can cancel their contracts in seven days, developers prefer to "get certain realtors whom they know will bring serious buyers. Nobody likes uncertainty."
Inevitably, those who aren't part of this exclusive club feel shut out of these channels and complain about their inability to purchase pre-sale condos before prices get even hotter.
Andrey Pavlov, a professor who specializes in real estate finance at Simon Fraser University's Beedie School of Business, believes more supply of condo units is necessary. He also suggests that offerings of pre-sale condos could be set out "like an [IPO of stocks] where you can't give a different price to different people at different times."