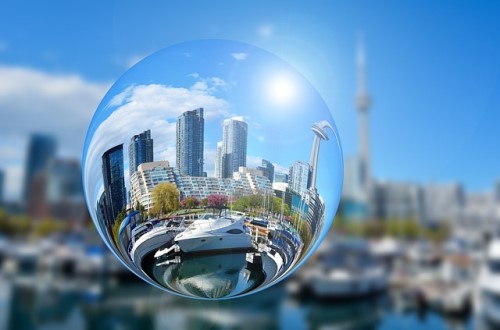 While some economists still question whether Toronto ever was in a housing bubble, others not only insist that it was; they also believe it has burst.
Douglas Porter, chief economist and managing director at BMO Financial Group, thinks the bubble has popped, which should make things easier for prospective homebuyers in the coming months.
Speaking on CBC's Metro Morning last Friday, Porter said Toronto was in the grip of a housing bubble earlier this year. "For those who aren't convinced [there was a housing bubble], I'm not sure what it would take to convince them," he said.
"Just one statistic to point to: We saw in a short space of about 15 months, average home prices across the wider Toronto region — not just the city of Toronto — rise by about 40 per cent, and we haven't seen the likes of that kind of increase in such a short amount of time, other than the late 1980s, which pretty much fit everyone's definition of a bubble."
As for why he's convinced the bubble has burst, Porter laid out a few reasons.
"There were a few things that unfolded at once, but I do think the measures brought in by the Ontario government had the biggest sways of all," he said. "It changed the psychology. It was just the sense that the government was highly uncomfortable with how hot the market was... and I do believe the market had just been so incredibly hot that folks were stepping back and calling a time out. But Ontario's measures really did change the conversation."
Porter expected prices to soften, but he did not expect it to happen so quickly.
"We saw similar measures out of British Columbia when Vancouver's market was as hot — if not hotter — last year. And the effects on the market were almost instantaneous. So I wasn't surprised at how quickly things changed in Ontario, but I was surprised at the depth to which it's affected things over the last few months."
"I didn't expect prices to drop 13 per cent in four months, which is what we've seen, but prices are still well up from what they were a year ago — but that's a very steep correction in a short amount of time. Even in August, we're seeing declines in sales from about 40 per cent from a year ago."
While those who bought real estate near the peak are probably feeling buyer's remorse, Porter said people struggling to get into the market have been given a ray of hope.
"Clearly, [struggling buyers are] the big potential winners here. Having said that, we're still looking at an average detached home price in Toronto that's still hovering around a million dollars. But at least we're taking a few steps in the right direction.
"Just the fact that calm has settled on the market — you don't have to buy a house without an inspection or get involved in these bidding wars — it just brings some sanity to the process. Affordability is still stretched, but buyers can take their time and make a reasoned decision, and that's healthier for everyone."