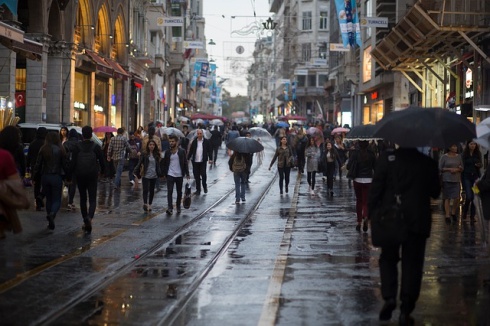 Despite the obvious—and at times aggravating—signs of Toronto's growing population density, a new study from the Fraser Institute suggests The Six can accommodate even more people.
The British Columbia-based think tank has ranked Toronto 19th among the analyzed cities—with the top three spots held by Hong Kong, Paris, and Athens.
There are 4,457 inhabitants per square kilometre in Toronto. In contrast, Tokyo has 14,796 inhabitants per square kilometre.
In Canada, Vancouver and Montréal are both considered to be denser than Toronto, with 5,493 and 4,916 inhabitants per square kilometre respectively.
"Canadian cities like Toronto, which are experiencing an affordability crunch, can accommodate much more housing supply. There's a lot of room to grow, especially upward," said Josef Filipowicz, senior policy analyst at the Fraser Institute.
Also read: Young professionals in Toronto want denser housing
Small apartments in high-rise buildings aren't the only way for cities to grow denser, Filipowicz said, citing Brooklyn in New York City as a prime example. The borough, which has 14,541 inhabitants per square kilometre, wasn't ranked among the 30 cities but appears in an appendix to the study.
"Brooklyn is a third the size of Toronto but has the same population and is not necessarily a whole bunch of tiny units," Filipowicz said. "Traditionally Brooklyn's not associated with skyscrapers. It's known for the brownstone apartments and townhomes. Density doesn't have to take any particular shape or form. It can offer a whole number of different shapes. That's ultimately up to the people producing that density, either builders or the city staff."
Filipowicz acknowledged that it is difficult to measure density, and his study did not include metropolitan centres, such as the GTA, which would have produced different results.
The study said density doesn't necessarily correlate to an inferior standard of living.
"It's important to underscore just how much room there is to boost the housing supply," Filipowicz said. "More housing supply is one of the best ways to stem rising housing costs."