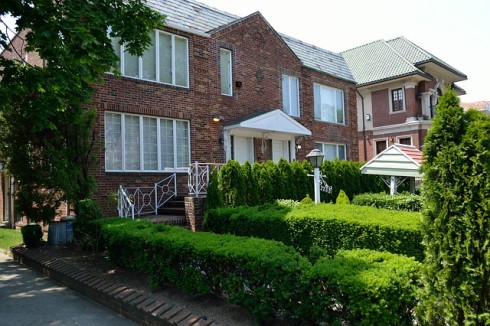 In his new book, Burn Your Mortgage: The Simple, Powerful Path to Financial Freedom for Canadians, author Sean Cooper explains how he was able to pay off his $255,000 mortgage in exactly three years and two months, at the age of 30.
He took on two extra jobs, on top his of his daytime job as a pension plan analyst in Toronto. He also lived in his basement so that tenants could occupy the top floors, and avoided vacations and extravagant purchases.
Even after clearing his mortgage and writing a well-reviewed book about how he did it so quickly, Cooper is still working 70-hour weeks and living in his basement. The goal now, he told Global News, is to save enough cash to retire extra early, should he choose that route.
While Cooper's extreme approach to mortgage payments and frugal lifestyle clearly doesn't suit most people, he does offer advice that every home loan borrower can apply to pay down their mortgage debt more quickly.
1. Look for the best deal.
While borrowers should get the lowest rate if they can, rates aren't the only thing to consider when comparing options. The point is to get the best deal – which doesn't always mean the lowest price, Cooper said.
In addition to interest rates, borrowers should also pay attention to the "three Ps":
Prepayment privileges: As interest rates rise, a bigger chunk of your mortgage payments will go toward interest rather than principal. That's why it's important to get a mortgage that will allow you to make large lump sum contributions and ramp up your monthly payments if you want to pay down your debt faster. Non-bank lenders may offer more generous prepayment privileges than the bigger banks.
Penalties: Borrowers should learn what the repercussions would be if they broke their mortgage. If you have a variable-rate mortgage, the penalty is generally three months' interest. For those with a fixed-rate, on the other hand, your penalties could be more severe. That's because you'll have to pay the greater of either three months' interest or the interest rate differential (IRD), which is based on current mortgage rates and your remaining mortgage balance. If you're opting for a fixed-rate mortgage, it's important to ask your lender if the IRD is calculated based on their discount rate or higher posted rate. "The big banks calculate fixed-rate penalties using their posted rates," Cooper said.
Portability: One way to avoid mortgage penalties is to have a portable mortgage. This means you can transfer your new home and combine it with a new loan, if needed. Another great feature that could save you thousands of dollars in penalties is an assumable mortgage, which would allow you to leave your mortgage behind for another qualified borrower as opposed to breaking it.
2. Make lump-sum payments whenever possible.
Unlike your regular monthly mortgage payments, all your lump-sum payments will go towards reducing your principal. That's why Cooper advises borrowers to make lump-sum payments whenever they can.
If you have no spare cash to channel into your lump-sum payments, Cooper says you could still use what he calls "found money": an inheritance, gifts of money, a one-time bonus at work, or even your tax return.
Lump-sum payments can shave thousands of dollars on the interest and years off your amortization period (i.e. the amount of time it will take to pay off your loan in full).