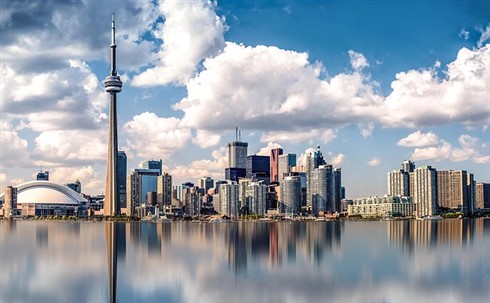 Toronto and Vancouver, Canada's two largest real estate markets, saw double-digit sales declines last month; however, these two regions could soon diverge, according to Michael Dolega, senior economist at TD Economics.
Last Tuesday, the Toronto Real Estate Board (TREB) said home sales in the Greater Toronto Area (GTA) were down 39.5% from last year, while the Real Estate Board of Greater Vancouver (REBGV) reported sales in its region dropping by 29.7%. Both markets were down significantly from last year, when home prices and sales were skyrocketing and bidding wars were the norm.
TREB said March sales figures were down by 17.6% from the 10-year average and REBGV said sales in that region were down by 23%, but had increased by 14% in the previous month.
But the paired trends between the two markets could end in a few months, according to Dolega, in part because British Columbia's latest budget introduced a slew of measures designed to cool the housing market, including a Speculation Tax targeting both foreign and domestic buyers who don't pay taxes in the province. In contrast, Ontario's budget offers no new measures to cool its own housing market.
"We are in for some divergence moving forward with the Vancouver market seeing some continued weakness into the year, whereas Toronto will probably see some sideways movement, but more of a pickup later in the year when people trickle back into the market," he said.
"The worst is behind the Toronto market."

Also read: BC government seriously considered imposing capital gains tax on flippers