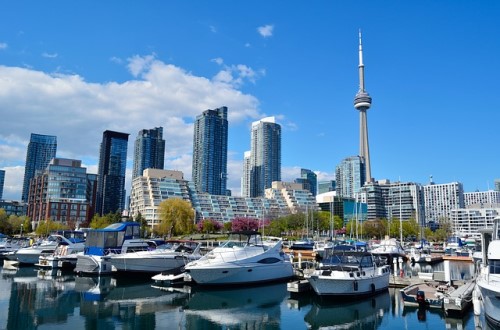 Condominiums are quickly moving out of the affordability range for Toronto's middle class.
Despite the slowdown in the broader property market, new data from the Toronto Real Estate Board (TREB) indicates that condo prices in the GTA have now passed the half-million-dollar mark, after soaring 28% in the second quarter.
The average condo in the region sold for $532,032 in the second quarter of this year, up from $415,454 during the same period in 2016, according to TREB.
This value growth makes condos unaffordable for many middle-class households in the region. With an average household income of $75,000, a typical family in Toronto can afford $380,000 to $420,000 in insured mortgage debt, following Ottawa's new mortgage rules announced last fall.
"Despite the recent dip in overall GTA home sales, the condominium apartment market was quite resilient, especially when compared to low-rise market segments," said Tim Syrianos, president of TREB. "Condo apartment sales accounted for a greater share of overall transactions during the spring compared to the same period last year. Market conditions also remained tight, which resulted in the continuation of strong annual rates of price growth."
These tight conditions in the condo market could be coming to an end, however. In June, the last month covered in TREB's report, condo sales slid downwards. Sales activity dipped 23.4% from the previous June, but prices were still up 23.2% from the same month last year.