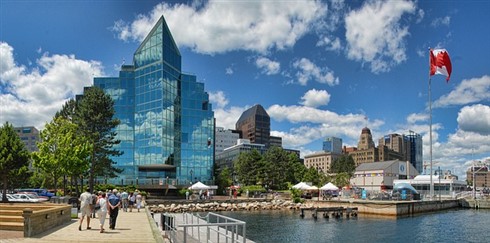 These days, $1m might get you a decrepit bungalow in Vancouver or a tiny condo in downtown Toronto. However, in Halifax, the same amount of money could get you a large mansion in an upscale neighbourhood or a well-appointed condo overlooking Halifax Harbour.
Case in point: a large mansion recently came to market at 72 Worthington Place in Bedford. According to Shereef Elkoshairi, realtor at Royal LePage Atlantic, it's the biggest $1m home he's seen in 15 years as a real estate agent.
The home has three floors, a basement, six master bedrooms, and other amenities. The backyard is fully landscaped and sodded, providing a level lawn and cement patio.
Elkoshairi estimates that a house of this calibre could easily fetch $8m and above in Vancouver.
The $1m home market in Halifax has seen an uptick over the last six years.
In late March, there were 65 $1m houses and apartments on the market, according to realtor.ca. Meanwhile, data from MLS Charts, which tracks homes sold north of $1m in Halifax, said 18 homes over the $1m mark were sold in the city in 2011; this jumped to 45 last year.
Also read: Vancouver insanity: Rundown house and lot for just under $7 million