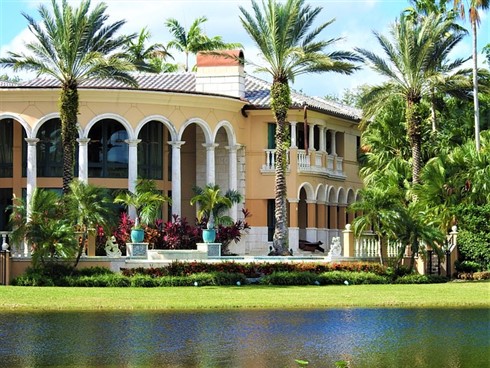 Tired of the winter blizzards, frantic pace of life, and high cost of living in Canada? A strong Canadian dollar, cheaper property prices, and government incentives that encourage foreign investment are drawing numerous Canadians every year to nearby countries with warmer climates.
Whether they're looking for a vacation home, a place to retire, or a lucrative investment opportunity, Canadians have some great home buying destinations on their wish list, according to a new report from Point2Homes.
To find out where Canadians want to purchase a second home, Point2Homes analyzed the Google searches of Canadians, from January 2017 to January 2018, using keywords regarding homes for sale in countries located in the Americas. The company then ranked these countries based on average monthly search volume.
Among the top 30 most popular home buying destinations in the Americas, the top three destinations for 2018 are Mexico, the United States, and Costa Rica.
1. Mexico
Garnering 18,780 monthly searches from Canadian users, Mexico is this year's top choice for Canadians wanting to purchase a second property abroad. The country was also ranked the most desirable foreign investment destination in a similar 2015 report from Point2Homes.
Puerto Vallarta was the most-looked up destination in Mexico (2,940 monthly Google searches). Second place went to Playa del Carmen, the "fastest growing real estate market in Latin America" (1,470 searches), and third place went to Cabo San Lucas (960 searches).
2. United States
Garnering 11,300 monthly searches from Canadian users, the United States has raced to second place this year, a major jump from fourth place in 2015.
"In fact, according to NAR's Profile of International Activity in U.S. Residential Real Estate, foreign investment in the States reached a new high in 2017, with most sales activity confined to sunny Florida, California, and Texas," Point2Homes said.
"In terms of housing affordability, our southern neighbor is more accessible than Canada. The median home selling price in the U.S. (312,482 CAD) is roughly half the Canadian one (602,100 CAD), which could be yet another incentive to purchase property south of the border. As you may guess, the options available in the U.S. are quite a few and can offer a lot."
3. Costa Rica
Gaining 9,770 monthly searches on Google, the Central American country has fallen one place compared to the 2015 study. Even though the country is still rebuilding itself after taking a major hit from Tropical Storm Nate, it still has a lot to offer.
Tamarindo is the first choice when it comes to buying a second home on the island (570 monthly searches). Second place goes to Jacó (270 searches), and third is the province of Guanacaste (250 searches).
Also read: High-net-worth Canadian investors are looking abroad
Here are the top 30 home-buying destinations in the Americas for Canadians: