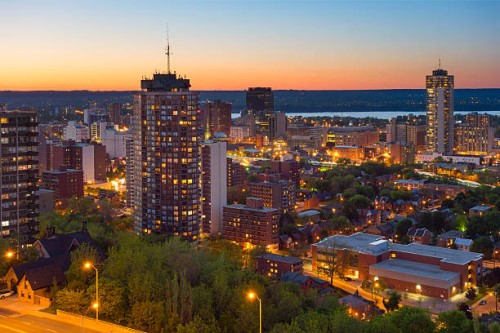 By Sheila O'Hearn, Zoocasa
Hamilton has become one of the hottest real estate markets in Canada, with considerably lower home and condo prices, compared to Vancouver or Toronto. Better prices and a surplus of residential listings are looking favourable for both seasoned and first-time buyers.
Hamilton Sales Are Booming: RAHB
According to the Realtors Association of Hamilton-Burlington (RAHB), 2,756 new listings were processed through the RAHB Multiple Listing Service® (MLS®) System in June, which is 23.8 per cent higher than the same month last year, and 28 per cent higher than the 10-year average.
Sales were 21 per cent lower than the same month last year, and were 5.6 per cent lower than the 10-year average.
Seasonally adjusted sales of residential properties throughout the Hamilton region were 20.8 per cent lower than the same month in 2016, with the average sales price up 8.6 per cent for the month. Seasonally adjusted numbers of new listings were 23.2 per cent higher than June of last year.
When compared to 1,159 listings last year in June, Hamilton's listings for June 2017 rose to 1,450. Sales for June 2017 were recorded at 783, which is less than last year's log, showing 991 sales. The average sale price is $498,116, higher than last year's average of $441,727.
For Hamilton condos, June 2017 showed 188 listings, up from 164 listings shown last year. Sales for 2017 were 136, down from the 145 sold last year in June. The average sales price, recorded in June 2017 is $359,853, up from last year at $305,238.
Many home seekers are looking in the Hamilton area, despite the slight rise in house and condo prices; but compared to Toronto with average home prices projected at $783,926, Hamilton is sitting pretty! The bottom line is that both potential buyers are willing to move out of larger red-hot metropolises to get a better deal on a new home.
The 2017 forecast is that Hamilton (and Burlington) will lead Canada at 11 per cent, trailed after by Kitchener-Waterloo at eight per cent.
Coveted Hamilton Neighbourhoods
Hamilton's continued refurbishment has attracted many families to the area.
Mountview is one enticing neighbourhood, perched on the Hamilton Mountain, home to both Olympic and Mountview parks, with several reputable schools from which to choose.
The historic North End (East and West), situated between the Hamilton harbour, CNR railway line and industrial core, includes Eastwood Park, Pier 4 Park, and Bayfront Park, not to mention its lure of the Hamilton Waterfront Trail and the highly ranked St. Lawrence Catholic Elementary School.
Kirkendall, Huntington, Durand, and Delta West are other favourite hoods to call home, with each neighbourhood's unique mix of quality schools, access to trails, green spaces, parks, and recreational facilities.
Up-and-Coming Developments
Located in Stoney Creek neighbourhood, Multi-Area Developments Inc. offers the largest selection in the region of new estate-styled detached homes and Hamilton townhouses on two onsite parks. The project is close to schools, shopping, restaurants and recreation. Five furnished designer models are available for viewing, from 1,636 square feet to 3,300 square feet (detached); freehold townhouses measure 1,132 square feet to 1,770 square feet. The development offers easy access to QEW, from the Red Hill Valley Expressway.
Sixteen minutes from Hamilton via Hwy 403, Paradigm by Molinaro Group offers five-tower luxury condominiums. Paradigm East Tower occupancy is now underway for Fall 2018 occupancy, while the remaining five per cent of Centre Tower condos is scheduled for Summer 2018 occupancy.
Paradigm is steps away from the Burlington Go station with scenic views of the Burlington skyline and the nearby Niagara Escarpment. The towers range from 18 to 24 stories and will contain 929 condos, when completed. Entrepreneurs might also inquire about the 20,000 square feet of commercial walk-up and retail space on the main floor; while 30,000 square feet of office units will also be available.
Hamilton: A New Generation's First Choice
Hamilton, one of the largest cities in Ontario with an urban population of over 700,000 people, has reinvented itself as a service region, particularly for health sciences and education. It has become an important community for Hamilton's newest residents and higher-education grads working in the Greater Toronto Area and, in particular, the Tri-Cities.
An hour away, in Waterloo, initial companies like Research in Motion and BlackBerry have been surpassed by over 2,000 new technology start-ups in the KW area. Young tech grads have started these companies, with the help of government-funded Communitech that operates a hybrid economic development agency, marketing board and business support network. These facets have combined to support the region as a world-class technology centre − a huge attraction for those living or aspiring to live in Hamilton.
Of course, Hamilton is no slouch! Its economic diversity and development have come to rely on the growth of the "eds and meds" sectors. The research-focused healthcare industry is now the city's biggest employer, while education continues as one of the city's fastest-growing segment.
McMaster University, Hamilton Health Sciences and St. Joseph's Healthcare Hamilton have won global awards and recognition for research capabilities. The sector attracts more than $200 million in research revenue annually, and it continues to actively seek out partnerships with private companies to help sell products and services being developed in Hamilton around the world. Over 300 life sciences companies operate within Hamilton.
Creative industries and events are burgeoning as well, drawing in both visitors and residents, from independent and successful restaurants and shops to the economic-fueling Supercrawl arts festival, which now attracts more than 200,000 visitors to its fall venue, placing Hamilton on the map as a recognized arts-happening destination.
Zoocasa is a real estate brokerage based in Toronto.
Sheila O'Hearn is a freelance and creative writer, and has worn many hats throughout her career, from general staff reporter to magazine editor. She has a keen interest in business entrepreneurship and currently writes for several outlets. Visit her at LinkedIn for more info.