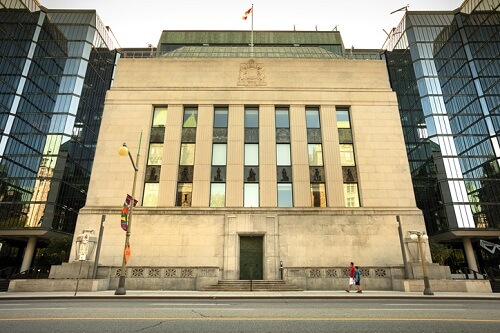 The Bank of Canada (BoC) will begin cutting its key interest rate in October as annual economic growth slows to 1% in 2020, research firm Capital Economics has predicted.
Stephen Brown, the firm's senior Canada economist, expects that weak demand at home and abroad will prompt two additional cuts after October's announcement, with little prospect of the BoC raising rates before 2022.
"Investors are right to price in lower interest rates from the Bank of Canada, but the single 25-basis-point cut priced into futures markets for the next 12 months does not go far enough," Brown said in a research note on Tuesday.
Brown also said that capacity constraints lessen the odds that the oil and gas sectors will pick up the slack for non-energy exports weakened by softer global demand, according to a Yahoo Finance report.
"The big picture is that we expect GDP growth to drop below Canada's potential in the second half of the year, causing the output gap to widen," he said.
Brown projects that Canada's economy will expand by 1.3% this year and by 1% next year. BoC's anticipated trio of rate cuts will then lift GDP growth to 1.7% in 2021, he said.
"The outlook for the next few years is challenging, but Canada's longer-term fundamentals are strong," Brown said. "The adoption of new technologies should drive a pick-up in productivity growth over the next 20 years. As that will more than offset a slowdown in labour force growth, we expect potential GDP growth to edge up to 2% by the mid-2020s, from about 1.8% currently."