The Canadian housing market slowed this March, with sales dipping to a six-year low and prices softening almost 2%.
Sales rose 0.9% from March, but activity dropped 4.6% from the same month in 2018, says the Canadian Real Estate Board in its monthly report.
Meanwhile, home prices edged down 1.8% year over year to $481,745, or $383,000 once you exclude Toronto and Vancouver.
"March results suggest local market trends are largely in a holding pattern," said Gregory Klump, chief economist for CREA. "While the mortgage stress test has made access to home financing more challenging, the good news is that continuing job growth remains supportive for housing demand and should eventually translate into stronger home sales activity pending a reduction in household indebtedness."
CREA continually blames the new stress test for reducing borrowers' affordability and slowing housing activity. Borrowers must now qualify at least 5.34%, no matter their contract rate. Since home prices are already high in Canada, this has forced prospective buyers to put their home buying dreams on hold, or else purchase less expensive property types, like apartments. Canadians, however, currently owe $2 trillion — more than the GDP, and the vast majority of it because of mortgage debt. The stress-test helps reduce interest rate risks and insulate the Canadian economy.
In addition, although the market has slowed, it appears to be short-term. Almost all housing markets tracked by CREA are up from five years ago.
Vancouver real estate benchmark prices are up over 60% from five years ago, and Toronto is up almost 57%. Smaller cities have also benefited greatly from the spillover effect from high housing prices in the two major cities. Guelph, previously home to agriculture and a university, has climbed 52% in five years, and the Fraser Valley has grown an incredible 80%.
The exception to this good news is the prairies, which cycle according to oil prices and currently have an excess of inventory. Calgary homes for sale and Edmonton real estate benchmark price, for example, each declined about 5.2%.
By looking at home prices from a long-term perspective, it's clear that the national housing market is still on a spectacular rise, and merely in a short-term slump.
For more information on March's housing market, check out the infographic below.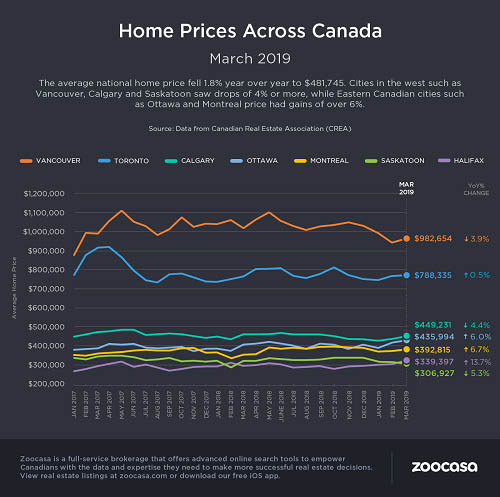 Zoocasa.com is a real estate company that combines online search tools and a full-service brokerage to empower Canadians to buy or sell their homes faster, easier and more successfully. Home buyers can browse homes across Canada on the website or the free iOS app