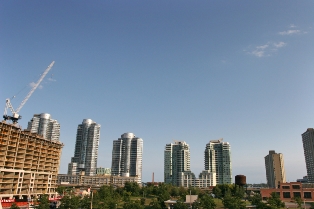 Toronto's overall housing market is posting healthy gains, but the city's condo segment appears to be doing all the heavy work, the latest figures from Statistics Canada show.
Condo prices during the third quarter of the year were up by 22.03% from the first three months of 2017. On a quarter-on-quarter basis, condo prices fell slightly by 0.09%. On an annual basis, condo prices were still 4.68% higher.
"The decline in the quarter is almost negligible, but it does show a little cooling. However, that's probably expected when prices rise over a fifth in such a short period of time," said an analysis in Better Dwelling.
Also read: Cautious buyers will push Toronto rents up 11% in 2019
New condos experienced a significant drop in prices in the recent quarter, while condo resales gained considerably, up 1.11% quarterly and 6.56% annually. This puts current resale prices 29.79% higher than they were in Q1 2017.
The price growth in the detached-housing segment grew by 0.58% in Q3 2019. On an annual basis, the segment gained 2.75% in values. Overall, the prices of houses have increased by 9.76% from Q1 2017.
Resales in this segment also performed better than new sales. In fact, the values of newly-built homes were down by 1.16%, leaving prices up by a measly 0.29% from a year before.
On the other hand, resale prices were up 1.44% in Q3 2019 and up 3.93% from the same quarter last year. Current home-resale prices are 11.96% from Q1 2017.
"Resale prices are rising much faster than new homes are. Condo prices are also rising much faster than houses. The market is placing minimal weight on depreciation and land values," Better Dwelling said.