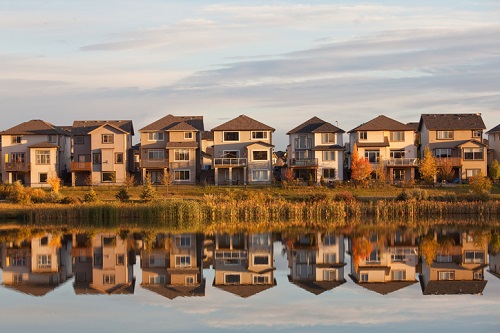 by Zoocasa
Almost every metric that measures the national housing market was negative in February, according to the Canadian Real Estate Association.
Firstly, home prices slid 5% to $468,350 from February 2018 (or $371,000 excluding Vancouver or Toronto).
Secondly, home sales plummeted to the lowest level seen in a February since 2009. Year-over-year sales were down 4.5% and month-to-month sales down 9%. Some markets fared worse than others: British Columbia, Alberta and Newfoundland saw their sales activity plunge 20% below their 10-year average, almost double the overall average for the country.
CREA blamed the federal bank regulator and government policy for the February doldrums, calling for a fresh look at the effect of the stress test on the market (borrowers must now qualify at least 2% above their contract rate).
"February home sales declined across a broad swath of large and smaller Canadian cities," said Gregory Klump, CREA's chief economist. "The housing sector is on track to further reduce waning Canadian economic growth. Only time will tell whether successive changes to mortgage regulations went too far, since the impact of policy decisions becomes apparent only well after the fact. Hopefully policy makers are thinking about how to fine tune regulations to better keep housing affordability within reach while keeping lending risks in check."
But all Canadian real estate is hyper-local — CREA tracks 17 cities, and trends vary wildly.
Vancouver benchmark prices were down 6% year over year, while the Greater Golden Horseshoe is largely up.
Guelph real estate and the Niagara region were especially notable for posting gains of 6.5% from last February, with the GTA itself was stable, rising 2.3%.
Barrie real estate is an outlier in the region, with benchmark prices down just over 4%.
The prairies continued to suffer from excess inventory, and benchmark prices were down almost across the board, at 4.4% in Calgary, 4.5% in Edmonton, 5.1% in Regina and 3% in Saskatoon. Regarding this, CREA said the "pricing environment will likely remain weak in these cities until demand and supply come back into better balance."
To see more details on how each local market performed, check out the infographic below: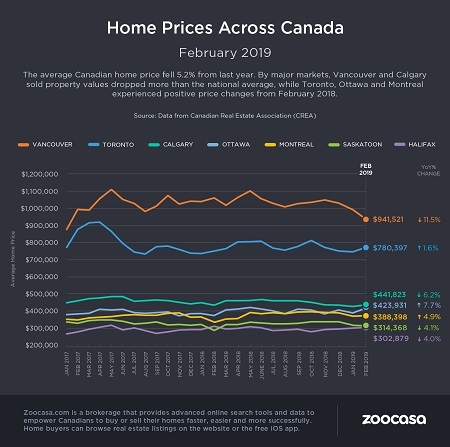 Zoocasa.com is a real estate company that combines online search tools and a full-service brokerage to empower Canadians to buy or sell their homes faster, easier and more successfully. Home buyers can browse homes across Canada on the website or the free iOS app.