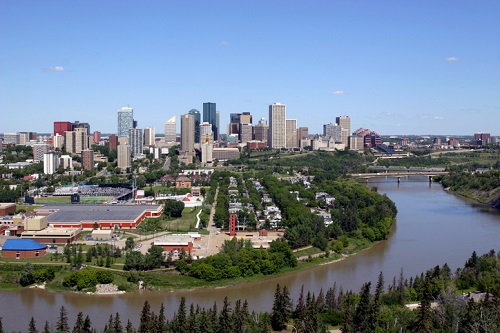 The City of Edmonton is set to turn over the keys to tiny homes in some of its yards.
Last week, the council's urban planning committee proposed a motion that would update zoning bylaws making way for tiny home additions in Edmonton communities.
Garden suites up to 1,400 square feet are already allowed in the city. Ashley Salvador, YEG Garden Suite's president, said that the city's plans to lift minimum size requirements would clear the way for tiny homes, too.
"Previously you'd have to have at least 30 square metres," Salvador said. "That has since been removed … some of the other changes were around allowing mobile home type garden suites to be dropped down in a backyard as a tiny home."
In a report to council, city administration recommended tiny homes on foundations be allowed for now but zoning amendments for tiny homes on wheels be delayed until the province updates building codes to accommodate the unique structures.
Tiny homes, typically under 400 square feet, can already be built as single-detached homes or garden suites in the city as long as they are constructed onsite and meet building standards.
Salvador said that the number of garden suites in the city has more than doubled over the last two years, rising from 150 suites to around 350. She expects the demand for tiny homes to soar.
"I think that there is absolutely demand, it's just that our regulations haven't quite caught up to that demand to really allow that market to flourish," Salvador said.
Councillor Mike Nickel, however, previously raised concerns about the rising interest in tiny homes. He worried that it's less about a cultural shift and more about a lack of decent, affordable housing in mature neighbourhoods, according to a CBC report.
"There gets to be a question around the quality of life as you chew this stuff up into smaller and smaller shoeboxes and try to fit people in there," Nickel said. "We're trying to chop up these pieces of property and intensify their use to improve the financials on the piece of property — it's the reasons why the suburbs exist, is because people could afford those products."