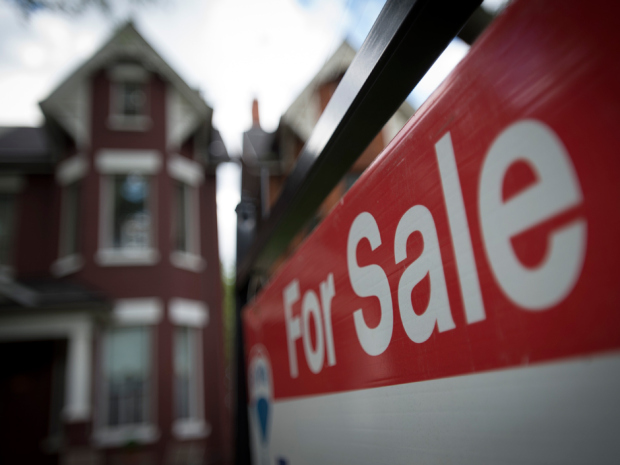 by Zoocasa
The Canadian housing market is flat so far this summer with both sales and prices little changed from May, or from June 2018.
The Canadian Real Estate Association reports that the MLS benchmark price remained stable both month to month and year over year at $616,600. The benchmark tracks 19 Canadian markets and represents a more "typical" property price than the average, since it removes the upper and lower end of the pricing spectrum. In comparison, the average national price for homes sold this June was about $505,500 (or $400,000 excluding Vancouver and Toronto) and was also stable from June 2018.
"The nearly unchanged national tally in June was the result of an even split between the number of local markets where sales were up and those where they were down," CREA said.
Quebec and Southern Ontario posted gains, while the Greater Vancouver Area, Calgary, Halifax and Newfoundland posted declines. The Ottawa MLS benchmark, for example, was up over 8% year over year to $420,200, while Calgary was down 4% to $416,400. Similarly, Greater Vancouver benchmark prices sunk almost 10% to $982,200 while Guelph jumped almost 7%. Cities in the Greater Golden Horseshoe, like Kitchener real estate, the Niagara region and Oakville have thrived this year due to a strong economy and spillover from Toronto, while the prairies and Newfoundland have suffered from a weak job landscape and a glut of inventory.
"There's a growing divergence in Canadian housing market trends between eastern and western Canada," said Gregory Klump, chief economist at CREA. "While sales activity in Canada's three westernmost provinces appears to have stopped deteriorating, it will be some time before supply and demand there becomes better balanced and the outlook for home prices improves."
Meanwhile, national home sales changed little from May, and grew just 1.7% from last June. This comes on the tail of a highly active spring, with monthly gains recorded in March, April and May.
But the market is still recovering from its drop in 2018, when the mortgage stress test was introduced, along with a slew of new provincial regulations meant to cool the markets in Toronto and Vancouver. Sales, in fact, reached a six-year low in February 2019 but have since risen 10%. So while sales still remain below the levels recorded in 2015, 2016 and 2017, and likely will for some time, they appeared to have at least turned a corner.
Even with lower activity though, the vast majority of cities remain in balanced territory, with neither sellers nor buyers having the upper hand.
For more details on the June housing market, check out the infographic below: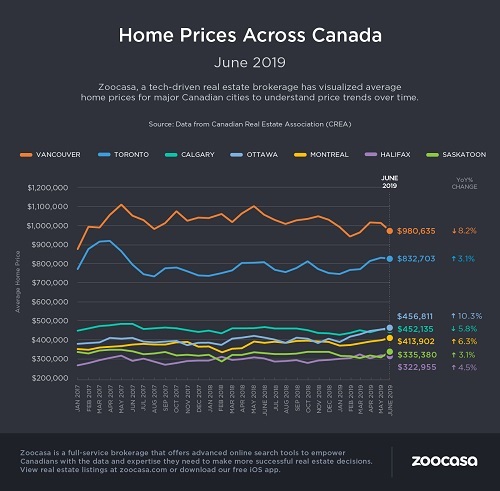 Click to enlarge image
Zoocasa.com is a leading real estate company that combines online search tools and a full-service brokerage to empower Canadians to buy or sell their homes faster, easier and more successfully. Home buyers can browse real estate listings on the website or the free iOS app.