by Zoocasa
It's not yet clear what 2019 will bring for the Canadian housing market, but if January is any indication, it's not great.
Both property prices and sales dropped year over year, according to a recently released report by the Canadian Real Estate Association (CREA).
The national average price fell by 5.5% to $455,000, the biggest year-over-year drop since May 2018. Meanwhile, sales sank 4%, making this the slowest January since 2015.
CREA blames the numbers on tighter mortgage regulations that took effect in January 2017, saying homebuyers are still adjusting to the changes. Borrowers' affordability has been severely reduced, as prospective buyers must now qualify at a contract rate plus 2%, or the Bank of Canada rate, which is currently at 5.34%, whichever is greater.
Another consequence of the stress test is an uptick in demand for lower-priced market segments, especially apartments. Apartments continue to outpace more expensive forms of housing, posting gains of 3%, the largest year-over-year increase. Single-family homes, in comparison, softened 1%.
CREA also says that because the national market is so varied and vast, any swings in major cities have an overweight effect on the country-wide numbers.
"Homebuyers are still adapting to tightened mortgage regulations brought in last year, "said CREA President Barb Sukkau. "However, their impact on homebuyers varies by location, housing type and price segment. All real estate is local."
Another metric, the MLS Home Price Index (HPI), says that home prices actually rose 0.8% year over year. The HPI is considered a more accurate reflection of the "typical" property, as it measures prices in 16 markets against a benchmark and excludes the very highest and lowest-priced homes.
Using this metric, CREA says that the provinces remain one of the weakest in the country, and continue to suffer from excess of inventory, with prices sliding 2% to 4%.
British Columbia is a mixed bag, with Vancouver edging downward 4.5%, but Victoria and Vancouver Island posting large gains, of 4% and 9%, respectively.
Ontario is on the upswing, with Oakville real estate rising 4%, Hamilton-Burlington real estate 5% and Guelph posting gains of just over 7%. The Greater Toronto Area itself is up around 2.5%.
For details on more Canadian markets, check out the infographic below: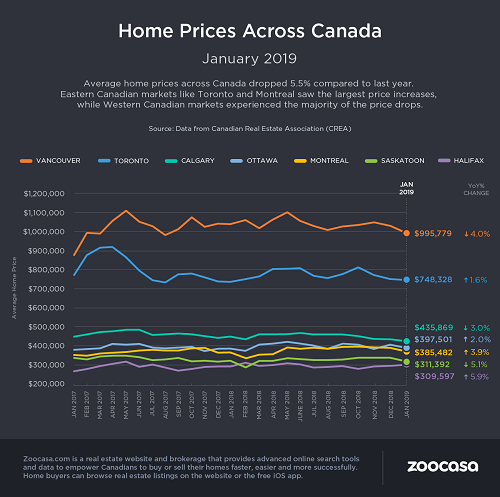 Zoocasa.com is a real estate company that combines online search tools and a full-service brokerage to empower Canadians to buy or sell their homes faster, easier and more successfully. Home buyers can browse homes across Canada on the website or the free iOS app.