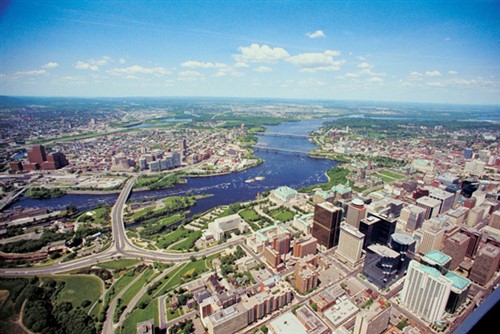 Trinity Development Group has agreed to pay Ottawa more than $6 million toward future affordable housing, but it's unlikely that any of those units will be in what will become the city's tallest building.
The project, which has been approved by the city council, will have 1,200 units in three towers, the tallest of which will be 65 storeys. The complex will be located where the two O-Train lines merge at Bayview station.
When the zoning was being debated last year, Somerset Councillor Catherine McKenney tried to secure 25% of those units for affordable housing, but she learned that there was no way to compel Trinity to do that. Instead, the council agreed to encourage the developer to include affordable housing.
"They didn't have to do this ... so good on Trinity for doing so in good faith," McKenney told CBC News.
However, McKenney said the agreement nevertheless highlights why the city needs new zoning rules that force developers to include affordable housing, so it doesn't have to "chase funds" to build living units that appeal to families.
Trinity and the city have negotiated a legal agreement that would ensure the developer pays $6.25 million toward the general reserve for affordable housing. McKenney plans to push for that money to remain in her ward, as well as another $1.25 million that the city will earn by selling nearby land to Trinity.
Aside from the $6.25-million contribution to the affordable housing reserve, Trinity will agree to pay for other community benefits, including $525,000 for affordable housing in Somerset ward, $350,000 for the ward's community parks, and $100,000 for its community gardens.
The deal must be approved by the planning committee on Oct. 10 and the city council on Oct. 23, according to CBC News.