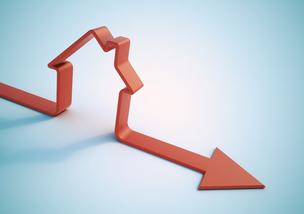 Home prices slumped in January for the fourth consecutive month, led by weakness in western Canada.
The Teranet-National Bank National Composite House Price Index was down by 0.1% last month from December. The four-month downward trend is the longest streak since 2013.
Prices dropped the most in western Canada's three biggest housing markets. Plunging oil prices have taken a toll on Alberta home prices, with Edmonton down by 0.8% and Calgary down by 0.5%. Meanwhile, Vancouver home prices dipped by 0.3% – but prices are still not far off from historic highs.
"These month-over-month price declines are indicative of a real estate market in correction mode," Hilliard MacBeth, investment advisor and author, told Yahoo Finance. "But the tripling of home prices from 2000 to 2016, on average, means that housing is still out of reach of most Canadians, especially first-time buyers."
MacBeth said that prices have a lot further to drop before the correction is over.
"A key metric is annual growth of mortgage loans, which slowed from an average 7% prior to 2017 to 2-3% recently," said MacBeth. "The current growth rate is too low to support house prices at these elevated levels."
While prices rose in Quebec City (1.3%), Halifax (0.7%), Montreal (0.2%), Toronto (0.1%) and Winnipeg (0.1%), these increases are not enough to swing the national average into a positive territory.