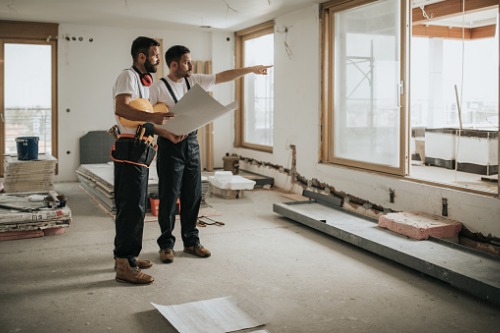 Wears and tears are normal for any property, particularly if you've owned it for years. However, a home renovation to update your dwelling may be in order if there are pesky issues that need fixing, or you simply want to update your house to make it feel more like home.
Renovations are quite an undertaking, Canadians spend $6.3 billion on residential renovations in August 2019 alone, says Statistics Canada. How much you may need for a renovation project depends on what fixes and updates you want your house to have. There are also fees related to renovation that you have to consider when sorting out a budget.
Funding renovations
There are loan options in the market that may help you with repairs and renovations that will transform your house into a personal paradise. Some of these are:
Home equity loan. It may be a good option for financing major renovation projects. Some banks may allow you to borrow up to 80% of your home's value. Since this type of loan is often large, you may bear increased repayments for a longer period.
Mortgage refinance. Refinancing means swapping out your existing loan for a new one. It may be a good idea to fund renovations. You could refinance your mortgage to find better deals in the market that caters to your financial position.
Keep in mind that when refinancing your mortgage, there are fees involved that you have to pay. Some of these are:
- Appraisal fees
- Title search and insurance
- Legal fees
Personal loan. This type of loan may be a suitable and cost-effective way to fund your home renovation. For smaller projects, consider an unsecured personal loan, usually up to $50,000. This type of loan, however, has higher interest rates and has a term of up to seven years.
For larger projects like building an extra room or remodelling your backyard, consider secured personal loans. These loans may allow you to borrow a higher amount for slightly lower interest rates over a longer period.
Take note that a personal loan entails related costs you have to pay such as application fees and annual fees.
Construction loan. If you do not have enough equity in your home, consider a construction loan. The estimated amounts for your home construction may not be given away in one go. Your lender may give portions of your loan amount in stages.
The progress payments may cover the following draw stages:
First Draw (optional). The first loan amount may cover the cost of building the base of your home, including the foundation. The building should be 15% complete and you may get 15% of the total loan amount.
Second Draw. Your lender pays for the expenses to weather-protect your house. In this stage, the roof should also be on. Your building should be already 40% complete at this stage and you may get 25% of amount during this draw.
Third Draw. In this stage, plumbing and wiring should be started. The drywall should also be already installed, with exterior wall cladding also completed. Your house should be 65% done by this stage. You may get 25% of the total loan amount during this draw.
Fourth Draw. The house should already be 85% complete at this stage. Kitchen cupboards and the bathroom should be completed. You may be able to access 20% of your loan amount for this draw.
Fifth Draw. This stage covers the finishing touches of your home. Your home should be 100% completed at this stage and you may access 15% of your total loan amount for this.
Keep in mind that before each draw advance, an inspector may go to your property to ensure you are following the New Home Warranty policies. He or she will also make sure the stage is completed before releasing funds. The costs of inspections may fall on you, but some banks may deduct the appraisal and progress inspection fees from each draw.
Know the rules
Before you tear out that wall to update your bathroom, know the renovation rules you need to follow depending on the province where your home is located. You are also required to acquire all the necessary permits and pay all fees your project entails.
To know the renovation rules in your province, visit the following websites: