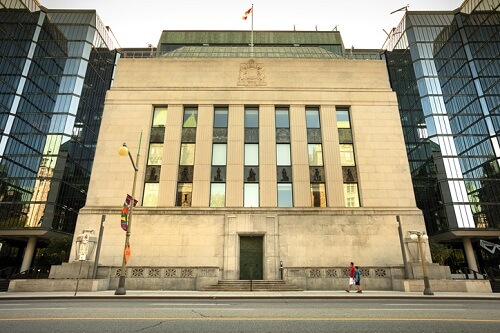 Most economists are sticking with their prediction that Bank of Canada (BoC) Governor Stephen Poloz will hold interest rates for at least another year, according to a Bloomberg survey.
Despite renewed speculation about a looming global recession and a trend among the world's central banks toward easing policy, the survey revealed that 9 out of 15 economists still expect BoC to keep the benchmark overnight rate at 1.75% until the end of 2020. That's contrary to market expectations, where forward rates point to some easing over the same period.
Domestic banks are among the most optimistic, including Toronto-Dominion Bank, Bank of Montreal, Scotiabank, National Bank, and Laurentian Bank.
The other six economists predict at least one rate cut amid escalating US-China trade tension that is raising doubts about the global growth outlook.
Royal Bank of Canada expects BoC to cut rates in the first quarter of 2020, with Canadian Imperial Bank of Commerce moving their call ahead to that same period last week. Meanwhile, Capital Economics expects BoC to lower its benchmark to 1% by the end of next year.
However, there are plenty of arguments in favour of a hold. Canada's economy in the second quarter probably grew at a faster pace than the 2.3% forecast by BoC in its July monetary policy report. Interest rates also remain stimulative in real terms, and the inflation rate is in line with the central bank's target.
Robert Kavcic, BMO Capital Markets senior economist, sees another good reason for BoC to buck the global easing trend.
"Do they want to go back to 2015 where they cut rates and stoked a big acceleration in credit and home prices? That's pretty fresh in their minds," Kavcic told Bloomberg. "I don't know if they want to go there right now."