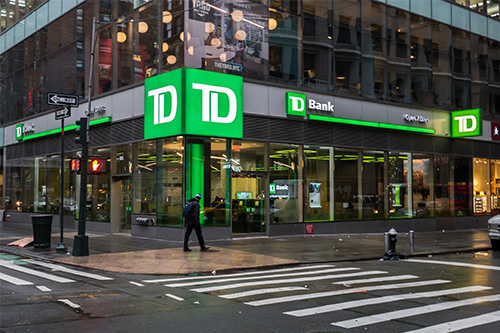 TD Bank has lowered its five-year posted fixed mortgage rate from 5.34% to 4.99%.
A bank spokesperson told BNN Bloomberg that this move aligns TD's five-year fixed posted rate more closely with current customer rates.
"Based on current market conditions, lower funding costs have led to a growing variance in customer rates versus posted rates," a bank spokesperson told BNN Bloomberg.
This came amid concerns surrounding coronavirus, which resulted in many investors buying more government-backed bonds. This has lowered the five-year government bond yield from 1.6% to 1.34%
If the other big banks follow suit, this could compel the Bank of Canada to lower the benchmark rate to below 5% for the first time since the stress test rules were adopted.
This move spells good news for many would-be homebuyers and refinancers who are struggling to qualify at the current benchmark rate of 5.19%.
Lowering the stress test rate by 20 basis points could translate to a 2% boost in Canadians' borrowing power, said Sherry Cooper, chief economist at Dominion Lending Centres.
This would also mean that it would take 1.8% less income to qualify for a mortgage on the average Canadian home price, assuming a 20% down payment.
"This doesn't sound like much, but it can have a meaningful psychological impact on already improving housing markets. A lower stress test rate would make a busy spring housing market even more active," Cooper said.